It's Monday, which means it's time for your weekly dose of locavore levity: the Joke of the Week! This week's joke comes from Burlington's Joe Gingras. Take it away, Joe…
I get why people are so sick of PC culture. I mean, always upgrading Windows, left-clicking, control-alt-deleting… It's just ridiculous.

About That Joke
Says Gingras: I think, generally, when people are complaining about PC culture they are just upset they can't say offensive things about people, which is ridiculous — just like this joke.
Meet the comedian, Joe Gingras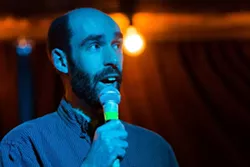 Sam Burriss Photography
Joe Gingras
Joe Gingras
has been performing comedy throughout New England and in New York City since 2012. He's appeared with Emo Philips, Louis Ramey, DeAnne Smith and Kenny Zimlinghaus at the Vermont Comedy Club in Burlington. Formerly, he hosted Half & Half Comedy at HalfLounge Speakeasy in Burlington.

See Him Live
Gingras performs in the area regularly, so keep an eye on the listings at
sevendaysvt.com
for upcoming appearances.
Think you can do better?
We're always looking for jokes from local comedians. We publish one joke each week, and you can read through previous ones
here
.