Courtesy of Swale
Swale, There's No One Here
It's been about two-and-a-half years since Burlington-based rock quartet
Swale
dropped their second full-length album,
The Next Instead
. This past spring, they launched a successful
Kickstarter campaign
to fund their forthcoming double-album,
There's No One Here
. The band has just released the double LP's debut single, which was initially shared as a reward for those who contributed to their Kickstarter.
The inaugural cut is called "Release Your Records!" and, despite what you might think, it's not a self-referential song about the new album — although that would be fun word play.
The track opens with what sounds like an ultimatum. A large group of voices shouts in unison, "Release your records!" Let's see … who might Swale be addressing? What are some synonyms for "records"? Documents, papers and forms, to name a few. Is there a prominent public figure that notoriously has not released some particularly important forms?
Vocalist/guitarist Eric Olsen sings, "Talk about when you were 33 and barely alive / It's a miracle you even survived / Now look at you, you're 45 / Someone said it got lost in the confusion / You can bet it cost us the revolution." I think you know who he's singing about. (Hint: His name rhymes with Ronald Frump.)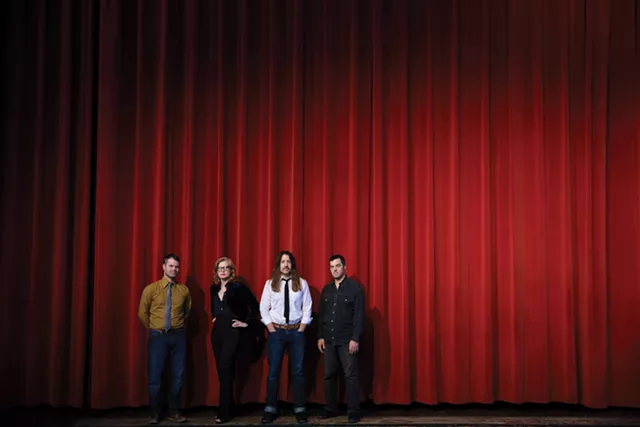 Shem Roose
Swale, L to R: Jeremy Frederick, Amanda Gustafson, Eric Olsen, Tyler Bolles
The song places bouncy organs and sweeping choral harmonies à la Electric Light Orchestra over rattling, '90s-alternative guitar chords. It's an inviting opener to what promises to be an engaging album that merges artistry with socially conscious content.
Along with the new single, Swale recently unveiled visuals to accompany "Here's Where You Were," the album's dreamy, atmospheric closing track. The video stars 5-year-old Esme Olsen, daughter of Eric and Swale keyboardist/vocalist Amanda Gustafson.
There's No One Here
drops on Friday, July 7.