Courtesy of Shelburne Craft School
Ceramics by Rik Rolla
A new call to craft artists comes from the unlikely collaboration of the
Shelburne Craft School
, a nonprofit that teaches traditional art and craft skills, and
April Cornell
, a Burlington-based clothing designer.
On July 16, the two will host
Art on the Water
, an outdoor fine arts and crafts event in the parking lot behind April Cornell's retail outlet on Battery Street. It will feature up to 15 juried vendors, live music, art activities and food courtesy of the
ArtsRiot food truck
.
Sage Tucker-Ketcham
, director of the craft school, says the connection was made after Cornell attended the nonprofit's annual winter wreath auction.
"She purchased a big
peace-sign
wreath by
Kristen L'Esperance
and hung it on the side of the building. I think she just really dug us," said Tucker-Ketcham. "So her son, Kelly Cornell, the VP of marketing, contacted me [about collaborating]."
Kelly Cornell said he and April stayed in touch with Tucker-Ketcham following the event. They had also heard about Wall to Canvas, a live art event that the craft school cohosts with Magic Hat at the latter's Artifactory, and thought something similar might work at their downtown storefront. "Sage and the craft school just seemed like perfect partners," Kelly said.
The partners are still determining how the July event will unfold. For now, they're looking for
submissions
, which will be assessed and selected by April Cornell. The designer will exhibit her own work alongside the finalists at the event.
Tucker-Ketcham said five artists have submitted applications so far. The deadline for entries is June 5 at midnight. The application fee is $15; a table fee for selected artists is $50.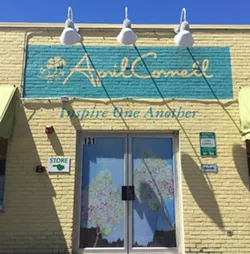 Courtesy of Shelburne Craft School
April Cornell storefront
Tucker-Ketcham, a painter, said they're hoping that fine artists, painters, jewelry makers and woodworkers will apply. "We're talking about beauty as being really key," she said, "embodying the feeling of beauty [
in
the work]."
She also noted that the July event will be fairly interactive — "a block party with fine art. We really want people to spend time engaging with the artists."
The craft school will sell ceramics by Rik Rolla and Mary Sweeney, Tucker-Ketcham said.
It's not the first time the Shelburne school has strayed beyond its
home base
. "We do Kids Hop during the South End Art Hop and other things [like Wall to Canvas] throughout the year," Tucker-Ketcham pointed out."I think this event is just a good opportunity to get our name out and mesh with the larger populated area."
As for the Cornell family, "We wanted to take advantage of the space we have on the waterfront to showcase the local art scene," Kelly said. "April herself is an artist, and feels connected to that community by association."
Tucker-Ketcham declared enthusiastically, "It's gonna be a
thing
."