Courtesy of Grace Spring & Cassandra Corcoran
Grace Spring with sculpture
When artist and activist Grace Spring was in her fifties, she began a one-woman protest vigil: Every Friday for more than 20 years, she would show up in front of the Chinese Embassy in Washington, D.C., bearing a "Free Tibet" sign. Today Spring, now 84, is the subject of a pop-up retrospective organized by her daughter, Monkton resident Cassandra Corcoran.
For this weekend only, Bristol's
WalkOver Gallery
is featuring a selection of Spring's artworks, from life-size, hand-painted papier-mâché sculptures to portraits of Tibetans on cotton scroll, to black-and-white photographs of tabletop clay sculptures of mythical beasts and ample allegorical suggestions.
Rachel Jones
From left: Grace Spring, sculpture by Spring, Cassandra Corcoran
Spring's works are warm and gentle, woven inextricably with artifacts from her longtime engagement with Tibet. These include an album of thank-you notes and drawings from Tibetan children that the artist
received in 1989
, snapshots of her travels in the region, and "Free Tibet" stickers.
Three of Spring's human figures appear to be congregating happily by the gallery's window, beneath a colorful Tibetan prayer flag. At one point early Saturday evening, guests huddled around a laptop that was playing video from a visit the Dalai Lama paid to the U.S. — across the room from Spring's rendering of His Holiness as a puppet.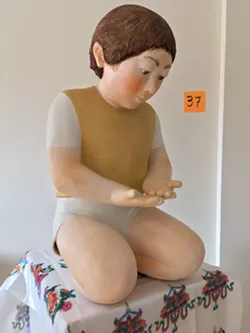 Rachel Jones
Sculpture by Grace Spring
One signature of her mother's life, writes Corcoran, was her "quest for inner peace and the cultivation of her spiritual life." Before Spring "found the Tibetan Buddhist path" in the '80s, she was a follower of Indian spiritual guide Kirpal Singh, as well as the mystic Gurdjieff.
Spring's preoccupation with spirituality — grace, if you will — emanates strongly from her body of work. Angels appear in multiple forms, from a sculpture of a youthful, almost sly, kneeling angel to a 1992 sketch of a more traditional European angel.
Even works without direct religious references, such as a sculpture of a young boy, embody archetypal, existentially loaded positions. The boy, for example, kneels and examines his upturned palms, suggesting the contemplation of his own human form, as well as the stance of the beggar and the repentant sinner.
One of Spring's most striking sculptures is of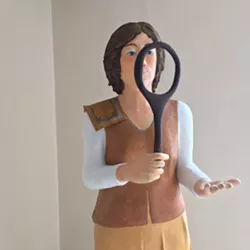 Rachel Jones
Sculpture by Grace Spring: "I am You and You are Me — There Is No Separation"
herself. It is listed as "Painted paper mache sculpture of woman standing with mirror: "I am You and You are Me — There Is No Separation." The figure is a young woman holding a mirror outstretched in her right hand. As if enacting a mudra, her left hand is extended with the palm up. The "mirror" she holds has no glass; the barrier has been removed, or was never there.
Affecting in its intimacy, this show celebrates the slow, soft and unwavering contemplation of finding one's place, not only in relation to others but to oneself, to the cosmos and to the here and now.