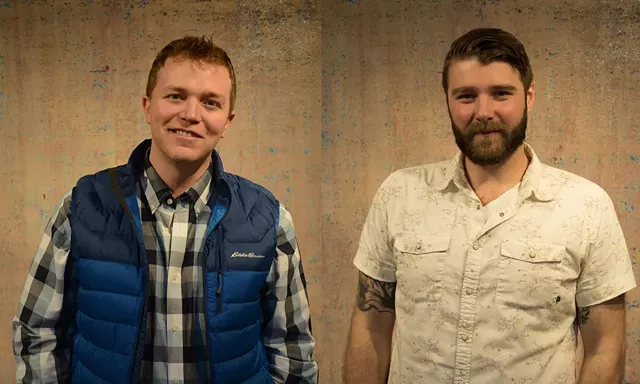 Burlington City Arts
Andrew Krebbs and Andrew DesForges
On Monday,
Burlington City Arts
announced the newest additions to its administrative team, art director Andrew DesForges and communication director Andrew Krebbs.
Krebbs fills the position left by the departure of communication director
Llu
Mulvaney-Stanak in March this year. Mulvaney-Stanak held the post for just 10 months before leaving to become the interim executive director of Outright Vermont; longtime director Eric Ford left it in 2016 for a position as senior manager of local programming at
Vermont PBS
.
BCA's previous art director was Ted Olson, who worked at the organization from 2010 to 2015. He left BCA in 2015 to start his own branding firm,
Tally Ho Design
, but continued to freelance for BCA, as did Bobby Hackney Jr.
DesForges, 32, is originally from Killington. He spent 10 years away in cities across the country, earning his MFA from the University of Iowa. DesForges returned to Vermont last year to be closer to his family. He has been working as a designer for A&S Brewing, as well as on freelance projects. Local music lovers will have seen DesForges' work on posters for the band
Madaila
.
Krebbs, 35, is originally from Indiana but spent the last 12 years in Birmingham, Ala. There he was the marketing director for the 67.5-acre
Birmingham Botanical Gardens
, a popular tourist destination. Krebbs moved to Vermont last November with his partner, Jason Garvey, who took a faculty position at the
University of Vermont
.
Part of his job, Krebbs said, is to make the BCA customer experience better. "We want to make it really easy to take classes, really easy for you to join or donate, to volunteer," he noted.
Krebbs added that he and his partner were drawn to Vermont because "the quality of life is just so amazing here. And BCA fits right into that."
For his part, DesForges said that his role is to visualize and convey to the public what the organization is all about. "A lot of people I talk to don't know all that BCA offers," he said. "We're either just a clay studio or a gallery [to them], but we have so much more going on."
Outside of work, DesForges said he enjoys skateboarding, snowboarding, the fine arts and live music. His most recent discovery was the local band
Iron Eyes Cody
.
Krebbs said he's excited for his first full summer in Vermont. He said he enjoys being outdoors and spending time with his three dogs.
Being one of two Andrews is confusing for both new hires, who sit right next to each other in BCA's third-floor offices. DesForges suggested
Top Gun
-themed nicknames: "Goose" for him and "Maverick" for Krebbs. Whether or not the names stick, it seems that BCA has found its wingmen.