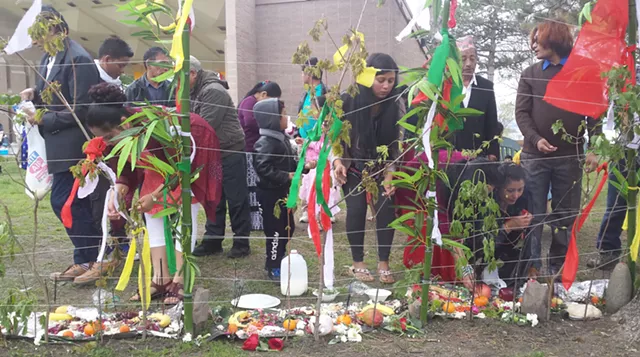 Kymelya Sari
Saransari Puja at Battery Park in Burlington
Last Saturday at Battery Park, a group of Burlington's Nepali residents celebrated Sansari Puja, or Mother Nature worship. The annual event organized by the Kirat Rai and Limbu communities is intended to thank the gods of nature and to ask them for future prosperity, explained Kathleen Haughey of the
Vermont Folklife Center
, which sponsored the celebration.
In Nepal or Bhutan, devotees typically gather in the jungles or near rivers. Sansari Puja is also usually held during the Nepali month of Baishak, or April in the Gregorian calendar. "It's a special day," said Chatur Rai of Burlington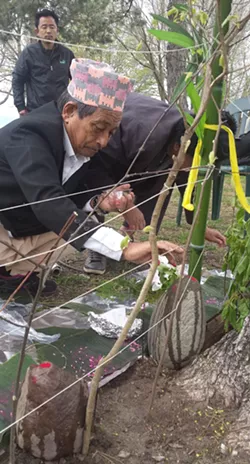 Kymelya Sari
A Nepali man erecting representations of the gods of nature
.
Hours earlier, the attendees had erected structures made with bamboo, wire and strips of cloth. The rocks installed beneath them represented gods of nature taking shade under the trees. Devotees placed fruits, flowers, incense and dollar bills on banana leaves as offerings. A
sewasaba
, or priest, read from the Kirat's holy book.
"It's very interesting," commented Abdillahi Hassan. He lingered to chat with members of the non-Nepali community who had been invited to join the festivities.
One of them was Mark Sustic, executive director of
Young Tradition Vermont
. "I'm just here to be helpful [and] celebrate an important time of the year for the Nepali community," he said. It wasn't the first time Sustic joined the group's activities. Together with VFC, his organization is trying to support Nepali immigrants in preserving their music and dance.
Other members of the larger Nepali community pitched in to help with the festivities. Among them were Sita Poudel and sisters Krishna and Durga Adhikari. They made tea, peeled potatoes, and chopped onions and tomatoes to cook curry and aloo gobi (a dish made from cauliflower, potatoes and spices).
pandits
, or priests, from
Vermont Hindu Temple
to lead Hindu prayers.
But on that day, Lama Guru Samten read Buddhist scriptures as part of celebrations to mark Buddha's birthday, also known as Buddha Jayanti. The lama sat beside a makeshift altar with statues of Buddha, surrounded by tapestries of Hindu gods and Buddha. When the lama took short breaks, the attendees, most of whom are members of the Vermont Hindu Temple, sang bhajan, or devotional songs, praising Buddha.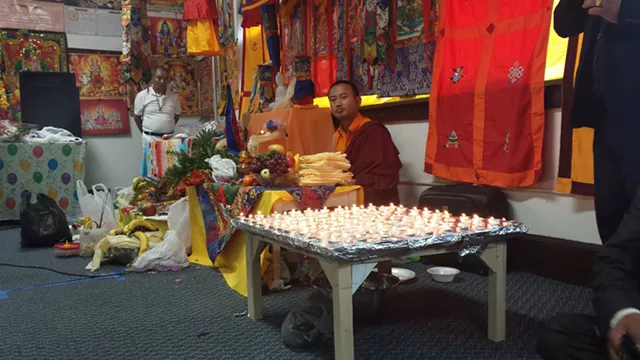 Kymelya Sari
Lama Guru Samten presiding over Buddhist rites
The Gurung Community of Vermont had invited the South Dakota-based lama to lead the celebrations, said Prati Gurung, secretary of the Gurung Community of Vermont. Although Buddha Jayanti was on Wednesday, the gathering was held at the weekend because "most people can attend it," Gurung pointed out. "Everybody has a job. They have to pay rent."
Hindu-Buddhist joint celebrations were common when they lived in refugee camps in Nepal, Gurung explained. Now that Bhutanese Nepali families have settled in Vermont, that tradition continues.