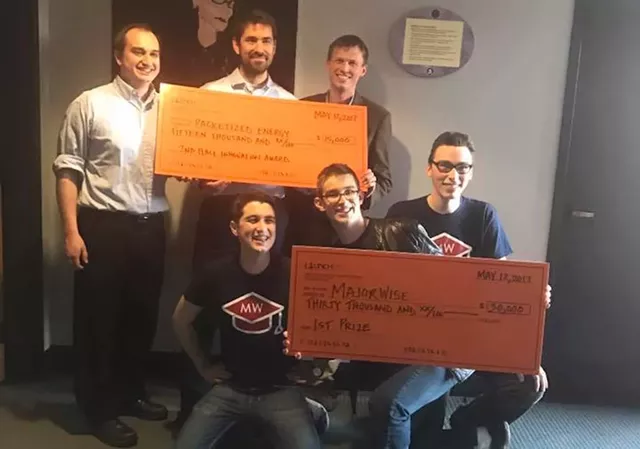 Courtesy of LaunchVT Facebook page
LaunchVT winners: Majorwise and Packetized Energy
Last Friday, May 12,
Majorwise
, an online job platform for students, took first prize at
LaunchVT
, an annual business pitch competition for local startups; just three months earlier, Majorwise cofounders Max Robbins and Peter Silverman came out on top at the LaunchVT Collegiate competition. The quartet of Mads Almassalkhi, Jeff Frolik, Andrew Giroux and Paul Hines, of
Packetized Energy
, took second prize.
Silverman, a
University of Vermont
junior, remembered feeling "really nervous" before it was his team's turn to present their pitch. "[I] sweated through a t-shirt, which was really gross," he said. The competition was held at
Main Street Landing Center
.
Hines, who is a UVM electrical engineering professor, admitted that "it was a little nerve racking," especially since he was the last to present. "It worked out OK, " he chuckled.
"Everybody did very well," Hines noted, adding that there was a "ton of improvement" from the
dry run
the teams had earlier this month at the
Vermont Center for Emerging Technologies
. Hines had spent the days leading up to the competition getting and merging feedback from his cofounders and mentor.
According to Silverman, winning the competition has given Majorwise credibility and financial relief. As first prize winners, the UVM juniors received $30,000 in cash and $45,000 in in-kind support. They will use the money to hire more developers, Silverman said. Currently, they can only afford to pay for 10 hours' worth of work each week, he explained.
As a result of the boost in manpower, Silverman predicts he and Robbins will be able to release an improved version of their platform a month earlier than planned. They will also make use of the cash prize to attend conferences for human resource professionals, so that they can market their product. Attendance at these events costs between $500 and $2,000, which had previously been "out of reach" for them, Silverman explained.
Similarly, the team from Packetized Energy will use their cash prize of $15,000 to hire a software developer. They hope to do this before their first investor comes in, said Hines. Packetized Energy is developing a platform to coordinate "distributed energy resources" found in household items and small businesses. The aim is to keep costs low and balance supply and demand in the grid.

So, what's their advice for aspiring entrepreneurs?

"Network and pitch [and] get comfortable with people," said Silverman. "It all comes down to the execution, stick to it." He and his partner have been working on the same idea for 20 months, he said.

"Just ask people for advice early on," said Hines. "We learned a lot about what a good pitch looks like."