Courtesy of Razaq Baloch
Shael, "Meri Jaaan"
Indian pop star Shael may not have a huge following in the Green Mountains. But what local fans the Punjabi singer does have probably noticed something awfully familiar about his latest video, "Meri Jaaan." That's because it was shot in Burlington.
The video is a duet between Shael — whose full name is Shael Oswal — and fellow Indian pop star and actress Kalpana Patowary. As the story opens, she's seen standing at the altar of Burlington's First Unitarian Universalist Church in a flowing bridal gown with her husband-to-be. Just before the reverend can pronounce them man and wife, he asks the congregation if anyone objects to the union.
The camera pans the pews and lingers on our hero. Shael stands, raises his hand and, with a longing and hopeful gaze, steals more than just the poor groom's line: "I do."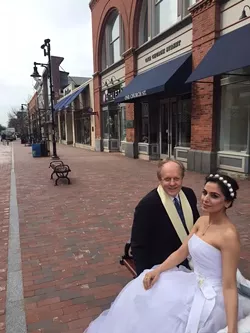 Courtesy of Razaq Baloch
Kalpana Patowary on Church Street
Kalpana gasps in surprise — and perhaps delight. The groom seems less amused. "Do you
know
him?" he protests.
And how.
(Cue sexy acoustic guitar intro, fade to flashback sequence.)
The remainder of the video recounts the history of Shael and Kalpana's unrequited love affair in gloriously colorful, sensual and sweetly comedic fashion — because Bollywood is awesome like that. Also, there are epic guitar solos.
It's a series of near misses that begins with a chance encounter on the Church Street Marketplace in 2012. Their literal run-in is foretold to Shael by a gypsy fortune teller played by local author and Queen City Ghostwalk founder
Thea Lewis
.
Over the years, the close calls continue at a variety of recognizable locales: in traffic, the Grand Isle Ferry, Oakledge Park, Maglianero. One scene depicts Shael in a full-body cast at the University of Vermont Medical Center, where Kalparna portrays a nurse. (It's unclear if Shael's injuries are related to the aforementioned traffic incident.)
(Editor's note: We'd like to point out that Shael's foibles could have been avoided had he simply submitted an I-Spy. Though it would have been a much shorter and less dramatic video in that case.)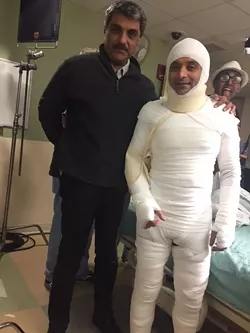 Courtesy of Razaq Baloch
Shael in a full body cast at UVMMC
So how did a massive Indian pop star — the video has more than three million views on YouTube just a week after its release — end up filming in Vermont? It turns out, his producer is a fan.
"You people live in paradise," says Razaq Baloch recently by phone. "I've had more people calling me asking where this video was shot than anything I can remember."
Baloch is a New York City-based film producer. He's also the founder of Vision Unlimited Communications, a media production firm that shoots all over the globe — including Vermont, apparently.
Baloch says he's done some smaller shoots in Vermont previously and has always wanted to do something bigger here. When Shael approached him about locations for his latest video, he pitched the Green Mountain State.
"They loved the idea," he says. Filming occurred in about a 24-hour period in early April — hence the snow in some scenes. The video was released a couple of weeks later.
Baloch coordinated with local producer Joe Bookchin, who was the location scout for the video. Bookchin has previously served as the director of both the Vermont Film Commission and the Vermont Office of Creative Economy. He also founded the film program at Burlington College.
Baloch says more is unique to Shael's video than its location. Spoiler alert: He gets the girl.
"In all of his videos, Shael
never
ends up with the girl," Baloch explains. "So we thought maybe this time he should."
As for the poor schlub left at the altar, Baloch says he's not sure what becomes of him. Maybe he should get a sequel? After all, it seems like it's the least Shael could do, right?
"Perhaps," says Baloch with a chuckle. "I'll certainly be back to film again."