It's Monday, which means it's time for your weekly dose of locavore levity: the Joke of the Week! This week's joke comes from Burlington's Sky Sandoval. Take it away, Sky…
I've noticed an interesting trend recently: People are naming their kids after Asian countries. Like, my girlfriend has a cousin named China. And apparently there are 10,000 women and girls in this country with the name India.
I want to get in on this phenomenon, but just to jump the shark on the whole thing.
"Hi, nice to meet you. And, oh, this is my daughter, United Arab Emirates. And my son, North Korea."
About That Joke
Says Sandoval: I acknowledge that it is rather controversial to name your son North Korea, considering 'North' is decidedly a girl's name.
Meet the Comedian, Sky Sandoval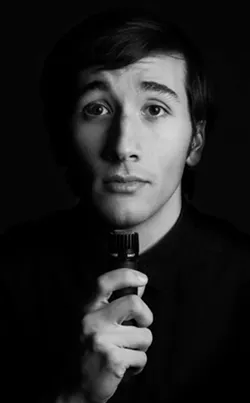 Courtesy of Sky Sandoval
Sky Sandoval
Sky Sandoval
Burlington-based comedian. He is also a multi-instrumentalist who writes and performs music spanning many genres. When he was a child, one of his crippling fears was large aquatic snakes. But now he's mostly afraid of his insurance going up.

See Him Live
Sandoval has three performances this month: Friday, May 19, at the Colchester Mead Hall in Colchester; Monday, May 22, at the Skinny Pancake in Burlington; and Wednesday, May 24, at the Vermont Comedy Club in Burlington.
Think you can do better?
We're always looking for jokes from local comedians. We publish one joke each week, and you can read through previous ones
here
.