Pamela Polston
Brickwork Art Studios in Burlington's South End
On Thursday, April 28, the tenants of 266 South Champlain Street, otherwise known as Brickwork Art Studios, received letters in the mail stating that they have 60 days to vacate the premises. The current owner of the building is Overlake Park LLC, a company co-owned by Jesse Jacobs of
Montpelier Property Management
. The letter was signed by attorney David Bookchin, and Jacobs was copied on it.
Jacobs is the son of longtime Montpelier landlord Jeff
Jacobs,
and is
responsible for securing tenants
in long-vacant Montpelier properties.
He bought the Burlington building
as a part of a larger portfolio of neighboring properties in December 2016. Those include 257-277 Pine Street and 266 South Champlain Street.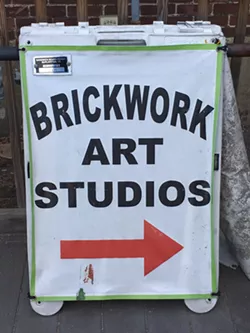 Pamela Polston
Sandwich board for Brickwork Art Studios
The Brickwork Art Studios have been operational for about six years, estimated tenant and painter
Johanne Durocher Yordan
, who collects rent from fellow artists on the owner's behalf . She said current monthly rates range from $235 to $685.
More than 14 artists maintain studios at Brickwork, among them painter
Katharine Montstream
, photographer
Jude Domski
, painter Holly Hauxjeffers, printmaker Casey Blanchard and Sam Dupont of
Project Object Vintage
.
Yordan has rented a studio at Brickwork for five years. "We're all a little bit stunned right now," she said on the phone Friday. "Here I was showing two empty spaces [to new artists], ready to sign leases, and bam!" Yordan said she found out about the eviction after some of the other tenants did.
She expressed concern for what would happen to the artists. "There's no way 14 artists are going to find a new space," she lamented. "This is such a crucial time for artists."
While she acknowledged that "property owners are going to do what they want," Yordan expressed regret at the loss of the studio spaces, and what it will mean for the area's creative hub. "The South End Arts District just became less artsy," she said.
At the time this post was published, Jacobs had not responded for comment on what lies ahead for the building. Stay tuned.