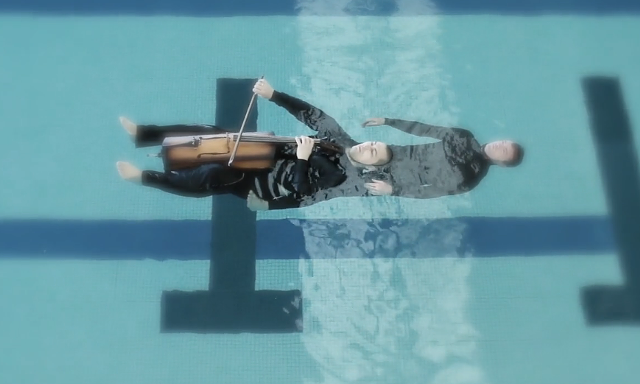 Courtesy of Gabriel Forestieri
From "Breathe"
Worlding.org
is a website dedicated to speculative definitions of the noun-as-verb "worlding," introduced by philosopher Martin Heidegger in the 1920s. The term is also the name chosen by dancer and choreographer Gabriel Forestieri to describe his practice of outdoor, site-specific movement — on land
and
under water.
On Saturday, April 29, and Sunday, April 30, the Middlebury College natatorium* will be transformed for two performances of "
Breathe
," a multi-disciplinary and immersive performance made in collaboration with composer
Loren Kiyoshi Dempster
and writer/visual artist
Adrian Jevicki
.
"Once you start … trying to think of the whole world as part of your art process, getting into water started to make sense," Forestieri told
Seven Days
by phone. His experimentations in water first began in 2011, he said, after he encountered the
Dolphin Dance Project
in Hawaii.
The Middlebury College dance department artist-in-residence has used his time at the institution to combine his existing underwater dance explorations (heretofore mostly in natural bodies of water) with multiple modes of artistic collaboration and technological augmentation. He will use a GoPro, for example, to project footage of his real-time underwater movement onto the facility's jumbotron. Dempster will use a hydrophone (an underwater microphone) to broadcast his cello compositions. (Forestieri clarified that Dempster has both a "nice cello" and a cello for playing underwater.)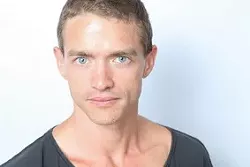 Courtesy of Middlebury College
Gabriel Forestieri
Before now, Forestieri's underwater investigations have been visible only through documentary video, after the fact. (See him at work/play in the Philippines
here
, or in Ibiza
here
.)
Besides being in real time, "Breathe" will be notable for its extensive collaborative elements: The performance brings together a large cast of some 20 students and professors — including Middlebury College diving coach Bradley Schott. Vocalists, swimmers, divers, dancers, actors and musicians will appear and interact with visual elements of light, puppetry and digital projections.
Though Forestieri has trained extensively as a free diver and can hold his breath up to five minutes, he noted that he "won't do any maximal stuff" in "Breathe." But his work in significant depths has certainly affected his ease in the pool: "If you can do 42 meters," he said, "then 15 meters feels like nothing."
The performance will be focused less on Forestieri's aquatic prowess and more on the full environment of the pool and its surroundings. "It's definitely not just about me holding my breath," he said. "It's more a representation of the natatorium and all these different aspects of it. I don't want to spoil the surprise, but there's a lot of different things that happen in the whole space."
Worlding.org describes "worlding" as a "floating signifier," which suddenly becomes amusing in light of Forestieri's unusual offering. What does worlding mean for Forestieri and his audience in the enclosed environment of a swimming pool? You'll just have to go live it for yourself.
Breathe from Gabriel Forestieri on Vimeo.
*Yes,
natatorium
is a grandiose name for an indoor swimming pool.