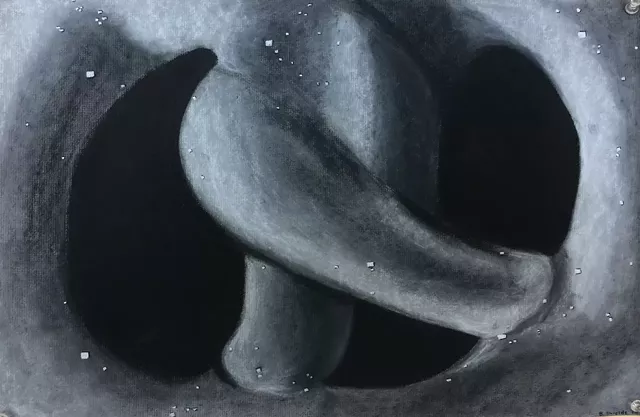 Courtesy of Leslie Fry
Drawing by one of Leslie Fry's students, Blair Shields
A new art show at Feldman's Bagels on Pine Street comes full circle — or full twist. Drawings of pretzels by students in sculptor
Leslie Fry
's University of Vermont introductory drawing classes will occupy the cheery yellow walls of the bagel joint through the end of April.
Fry, who's taught as an adjunct at the university on and off for the past 20 or so years, says she got the idea during a conversation with Feldman's original owner, Roy Feldman. "We were eating pretzels," she recalls, "and he mentioned how there are similarities between the ways he makes pretzels and I make sculptures. And all of a sudden I thought,
Isn't a pretzel a great shape?
"
Courtesy of Leslie Fry
Drawing by one of Leslie Fry's students, Catey McGinn.
With that, the idea for the show was born. The shop turned out a batch of mini pretzels for two of Fry's intro to drawing classes, each with 19 students. After completing brief thumbnail studies of their personal pastries, students selected a composition and tackled it on gray paper with black and white Conté crayons.
The resulting drawings are varied in their approach, if uniform in subject matter, and severely appetizing — regardless of their dull monotone nature. Each salt crumb is the flick of a white pencil. Each sloping twist, a mouthful of shadow and reflected light, waiting to be consumed. Not to mention, the drawings will make you appreciate even more your actual pretzel, which you can purchase from a little wooden rack at the counter.
Fry even made a video to accompany the project. It shows the pretzels being baked, the students doing their sketches, then munching their subjects and, finally, the finished works hung on the walls. The video's score is a fiddle tune played by Feldman.