1984 film still
Bob Flag as Big Brother
One of the best weapons that "the arts" has at its disposal is, well ... the arts. In light of President Trump's threats to completely defund the National Endowment for the Arts, it seems safe to say that the NEA and its supporters have guns drawn — figuratively, of course.
Yesterday, arts blog
Hyperallergic
reported that approximately 400 people gathered at New York City Hall for a
Rally to Save the Arts.
Today,
IndieWire estimates
that some 90 movie theaters nationwide will screen Michael Radford's 1984 (!) film adaptation of George Orwell's landmark dystopian novel.
Among these are a handful of Vermont cinemas, including
Merrill's Roxy Cinema
in Burlington (in collaboration with the
Flynn Center for the Performing Arts
),
Big Picture Theater
in Waitsfield, the
Savoy Theater
in Montpelier and
Pentangle Arts
in Woodstock.
The Flynn Center's Facebook event for tonight's screening offers: "All participating theater owners are jointly programming this remarkable film as a way to show solidarity for the importance of the National Endowment for the Arts as a beacon of free speech and creative expression through entertainment." Merrill's Roxy will donate proceeds to the Flynn to benefit its ongoing programming.
The specific significance of the April 4 screening date comes from the first transgression of protagonist Winston Smith (played by John Hurt) against the totalitarian regime of Big Brother. On April 4, 1984, he makes his first diary entry — a "thought crime" punishable by death. In Orwell's original, Smith's diary entry recounts a gory screening of supposed news footage from the fronts of Oceania's interminable war.
1984 film still
April 4, 1984
Interestingly, for Orwell and Radford both, the screen — and screening — is a critical device. Screens are the primary means by which Big Brother disseminates propaganda, and also the surveillance mechanism that enables the government's panopticon. In Radford's adaptation, seething, swarming masses shriek, hiss and cross arms at the so-called enemies on screen, in an enormous and terrifying group identification ritual.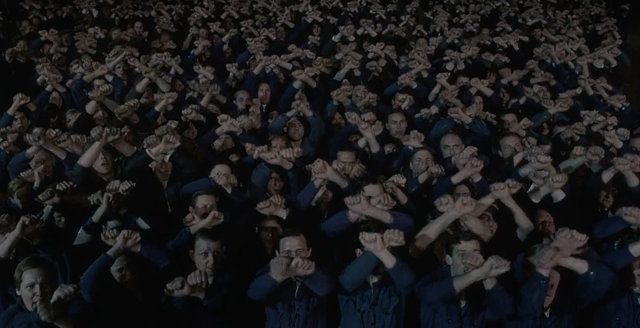 1984 film still
Oceanians watching propaganda
That IRL arts communities would fight back using film only makes sense. In Los Angeles (where indie cinema stronghold the Cinefamily will screen
1984
, along with the Hammer Museum), the Downtown Independent theater is
taking a slightly different tack
.
On March 26, it screened the
The Chaos Experiment
to inaugurate its "Filmanthropy" series.
The 2009 climate-change-denying film was produced by Steve Bannon's home distribution media company; the Independent advertised it as "mind meltingly stupid and unintentionally hilarious."
The point, though, wasn't
only
to ridicule Bannon: Ticket sales were donated to nonprofit Earth Justice.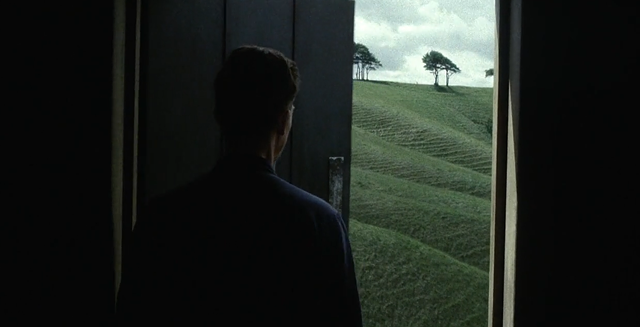 Back in Radford's bleak rendition of Oceania, Hurt and his gaunt, pained face weather the bleak lifelessness of repression — and eventually confront the absurdity and violence of inventing truth. Viewers will no doubt draw uncomfortable parallels between our current age of "alternative facts" and "fake news" and Orwell's prescient warning.
In the Orwellian context, where objects of simple beauty are outlawed and orgasms are scientifically eradicated, it becomes easy to see how defunding the NEA (whose budget accounts for about .003 percent of federal spending,
according to WaPo
) sketches a picture of an American future where a boot is stamping on a human face, forever. It's not a fun watch, but an important one.