It's Monday, which means it's time for your weekly dose of locavore levity: the Joke of the Week! This week's joke comes from Burlington's Kendall Farrell. Take it away, Kendall…
I have a great good person test: When you watch crime shows, do you worry about getting murdered? Or do you worry about getting caught murdering somebody?

Are you sitting there thinking, Well, I guess I'm never going camping alone again. Or, are you sitting there like, Well, I'd remove all his teeth, that's what I'd do. They'd never catch me."
About That Joke
Says Farrell: Watching a ton of crime shows made me realize that I'm maybe a terrible person. I've been working on this joke for probably about a year now. I do a much longer version when I'm onstage.
Meet the Comedian, Kendall Farrell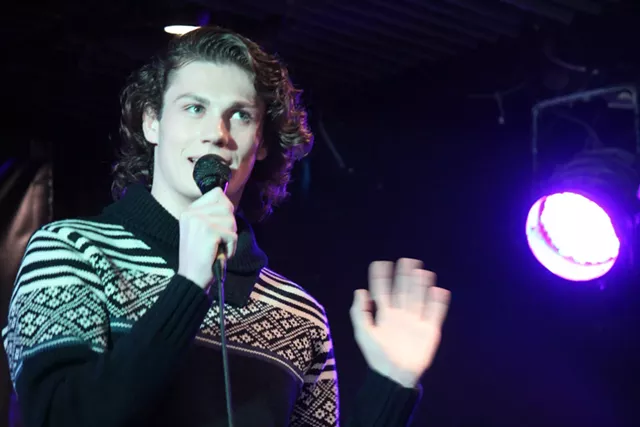 Courtesy of Kendall Farrell
Kendall Farrell
Kendall Farrell is a Burlington-based comedian. He was the 2015 winner of the Vermont's Funniest Comedian competition at the Vermont Comedy Club and a 2016 finalist for the Seven Daysies 'Best Standup Comic,' a reader's choice award.

See Him Live
Farrell hosts Comedy & Crépes every Monday at the Skinny Pancake in Burlington. He hosts LGBTQ LOL: A Queer Comedy Showcase on Wednesday, April 5, at Vermont Comedy Club in Burlington. On Wednesday, April 12, he cohosts the political comedy show United We Standup with special guest,
Seven Days
political editor Paul Heintz, also at VCC.
Think you can do better?
We're always looking for jokes from local comedians. We publish one joke each week, and you can read through previous ones
here
.