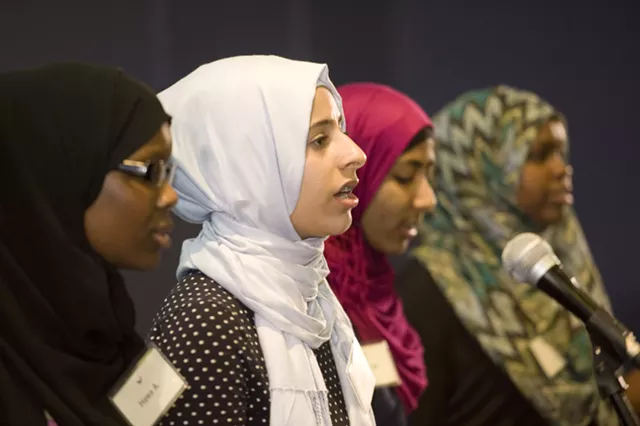 Courtesy of Young Writers Project
Muslim Girls Making Change slam poets
For the first time, the
Young Writers Project
will receive a grant from the New York City-based
Doris Duke Foundation for Islamic Art
. YWP is one of 11 organizations nationwide receiving the grants, which are funded by
DDFIA's Building Bridges Program
and designed to foster understanding of and reduce bias against Muslims across the U.S.
The grant — $90,000, over two years — is intended to support a youth-led project that will "engage Muslim and non-Muslim youth in Vermont with storytelling, performances and publication of work that expand their understanding of Muslim cultures and related social justice issues," according to a statement from the foundation.
Alluding to the current "intolerance and incivility in our political climate and society," YWP director Geoffrey Gevalt noted that the project is particularly well timed.
"It's more important now than ever people understand differences and try to be more accepting and tolerant," Gevalt said.
An organizing committee predominantly composed of youth will be formed to spearhead the project. They will receive training and support from a yet-to-be-hired project coordinator.
Muslim Girls Making Change
have already been tapped for the committee, as well as to lead after-school workshops. The slam poetry quartet gained
national and international attention
after taking part in last year's Brave New Voices International Youth Poetry Slam Festival, an annual conference and competition for youth.
There will be opportunities for students in rural Vermont to engage with Muslim students in an urban city, Gevalt explained. He also said that a Muslim artist would be invited to Vermont to present his or her work, as well as conduct formal in-school residency for a couple of days.
Courtesy of Young Writers Project
Geoffrey Gevalt
"We are going to try to raise people's awareness about the Muslim community in Vermont," said Gevalt. "And to help [others] understand who they are, what they think." He added that the grant will help to "magnify what
Muslim Girls Making Change
have already done in a very powerful way."
"This is a great way for us to both promote youth voice, activism, and leadership as well as conversations between different groups, wrote "
MGMC
member
Kiran Waqar
in an email. The South Burlington High School junior added, "I think change begins with conversation and if we can get our foot in the door, who knows the ripple effect we could have?"
YWP will strategize on how it can attract students from underrepresented groups to participate. These include those who are learning English, those who don't necessarily feel they have a voice, as well as those who don't like writing or don't realize they are actually pretty good in writing, Gevalt noted.
"A lot of times, youth have things to say but choose not to say it," wrote another MGMC member, Hawa Adam. "I think this project provides youth with the opportunity to express their thoughts, whether it's through writing, performing, or just conversing," the Burlington High School junior continued.
Although the slam poets — all high school juniors — will be a "key part" of the project, Gevalt hopes to find the next generation of leaders that the YWP can help train and support. The nonprofit also hopes schools will be able to continue some of the project's activities.
"A goal in any kind of special project grant is to try to see how it outlasts its grant," said Gevalt.