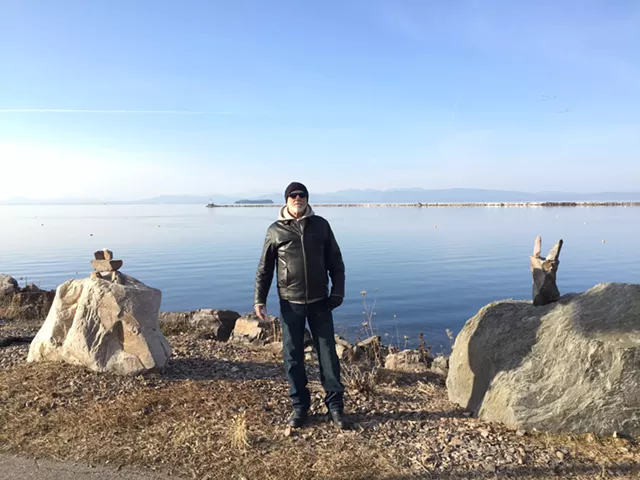 Sasha Goldstein
Bryant Chase and his "African eland," right
Bryant Chase gazed at his latest creation and chuckled. "This one reminds me of an African eland," he said, pointing toward a rock formation he'd erected just south of Perkins Pier on the Burlington bike path.
All winter long, Chase has made similar artwork out of rocks and driftwood along the waterfront. Some mornings, he returns to find his towers still standing. Other times, they've been knocked over — by the weather or, more often than not, by some unknown troublemaker.
"As long as it makes people happy, I don't care if the kids knock it down every night," said Chase, 65. "I'll just come back in the morning and keep redoing it."
Chase is certainly a familiar sight along the Burlington bike path — he claims to have come down to his "canvas" every day but a dozen since last spring. He's often wearing a New England Patriots ball cap or beanie, sunglasses and a black leather coat or dark parka. He sports a gray, neatly trimmed goatee and, often, a smile.
The artwork he creates is intricate and well conceived. Chase fits together rocks that will balance properly and oftentimes incorporates large pieces of driftwood. Visitors to the waterfront photograph the pieces or call out and compliment Chase for his public contribution.
"They just touch my heart, the ones who comment," he said.
Chase was born in Massachusetts and recounted a difficult childhood. He spent time in an orphanage before his father moved him to Hartford, Conn. Chase found it hard to stay out of trouble and eventually enrolled in the Marine Corps in 1967. But that didn't last, and Chase bounced around construction and welding jobs, including 15 years in Georgia, before landing permanently in Vermont. He has also struggled with schizophrenia, for which he says he now gets treatment.
Chase uses his art as a therapeutic outlet. He's retired, so he wakes up most days and heads to the water to partake of his routine, building beauty out of the everyday.
Sasha Goldstein
Chase's apartment is filled with art
Inside his King Street apartment, Chase's walls are also lined with his art, be it pen-and-marker drawings or rock formations and driftwood sculptures. He recalled the things he's found on the water's edge: a water-laden raincoat, a racquetball, a side-view mirror cover for a car. He also takes rocks he's found and draws faces on them or otherwise turns them into pieces of art.
Chase said City Market has agreed to let him display his artwork in the coming weeks, and he hopes he can sell some to make a few bucks.
"This is going to be a catamount!" Chase exclaimed as he showed off one rock. "Maybe a college guy will want this catamount."