Kymelya Sari
Parent University program coordinator Ali Dieng (far left) briefing Gita Dhakal, Chacha and Janine Ndagijimana
Gertrude Moundouti believes in giving back to the community and making an impact. Last Friday, the Congolese woman attended the kick-off for a new session of
Parent University
at the
Integrated Arts Academy at H.O. Wheeler
in order to share her experience as a graduate of the program.
"Someone asked me to come, and I came and I learned," said Moundouti in an interview before the event. The 2016 graduate learned that she could approach other members of the school community for help, depending on the situation. She also learned to make fruit popsicles.
"[Previously], for me, it was just the teacher," Moundouti said. "Now, I want other parents to learn, too, to be part of the community and be able to help their kids with school." To show support for the new participants, she'll be on hand to interpret for parents who speak Lingala or French.
Kymelya Sari
Parent University graduate Gertrude Moundouti
Parent University is a 10-week program started by the Burlington School District in 2015 to equip parents with the skills and knowledge to become partners in their children's education and development.
Many of the parents who signed up are New Americans who want to learn about the school district and its culture, said program manager Ali Dieng. More than 50 people have graduated from Parent University so far, and at least 20 parents have signed up to attend the fourth session of the program, which will take place at IAA, Dieng added.
This term, parents will have the opportunity to give back to the community even before they graduate from the program, according to Miriam Ehtesham-Cating, the district's English Language Learning director.
"Many of the parents I've worked with at Parent University before have expressed a desire to know more in a personal way about what goes on in their children's school," said Ehtesham-Cating. For the first time since its inception, participants will have the opportunity to volunteer at their children's schools.
Thus far, Dieng has secured $7,500 in grant money to underwrite the latest session of Parent University. He also has recent
University of Vermont
graduate Lauren Porell to help him run the program. One of her responsibilities is to conduct pre- and post-learning surveys with participants.
The current session, Dieng noted,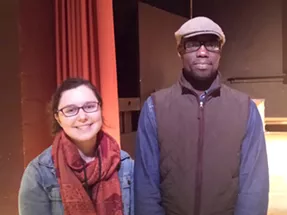 Kymelya Sari
Lauren Porell and Ali Dieng
offers a broader range of classes, including those on early education enrichment, housing discrimination and fraud scams. The
Vermont Humanities Council
,
Vermont Legal Aid
,
Generator
and Burlington's
Community of Economic Development Office
are the program's newest partners.
Having parents become more familiar with their children's education process will benefit all parties, Ehtesham-Cating explained. She describes herself as a big proponent of family literacy — a term used to describe parents and children learning together.
Over the next few weeks, Ehtesham-Cating will find out where the participants' children attend school and what kind of classroom setting would be most appropriate for the parents to join. They can volunteer in several ways, she added, such as with helping small children put on boots and coats, teaching them something in the parents' native language, or listening along as stories are read aloud.
"The sky's the limit," Ehtesham-Cating said.