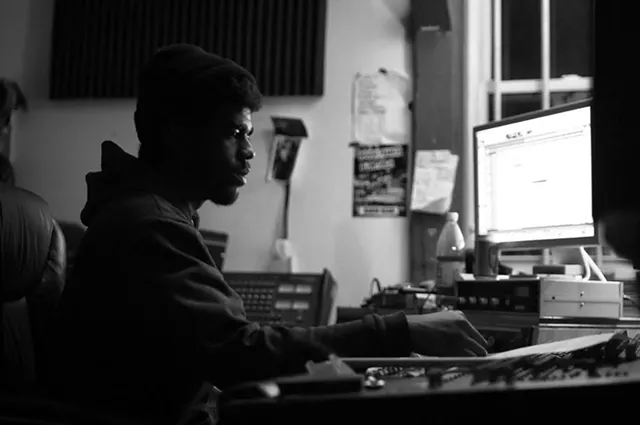 Sawyer Green
Urian Hackney
Hello again, humans. I am a little teary-eyed this week over the closing of Church Street's
Halflounge Speakeasy
. The tiny bar was a hidden cove for local misfits for nearly a decade. Each summer weekend the place was packed from the blue-and-pink lit basement to the front patio. I'm stuck in my feelings for that little dance floor, so I'm going to unload some of my favorite memories of the place. If you aren't a nostalgic baby-blanket like myself, skip a couple paragraphs to read into the future of Vermont reggae, okay?
The first time I entered Halflounge was when I was 19 years old to see an early performance of the
Vacant Lots
. The really cool older girl that worked next door to me on Church Street had invited me. And the fresh new venue with its tiny stage felt romantic and polished.
A few years later, Half would become known as a serious dance floor.
Bonjour Hi
,
Young Bloods
,
Disco Phantom
and a slew of other DJs began to carve out a home for independent dance music in Burlington. Scott Mangan coaxed the Full Moon Masquerade into existence within its walls and Craig Mitchell kept the roof raised. Half supported countless emerging local musicians, and not just with free drinks and exposure — with cash.
Shoutout to Half's bartenders, whose playlists were always as good as — if not better than — the DJ. You can currently catch former Half MVP
Courtney Pryce
slinging drinks at SideBar — she also DJs as Blackout Barbie. Of course, keep a lookout for Tommy Wheeler and Jory Reeves' notorious Pop Rap Dance Party. I wish I could mention everyone that made Half what it is, but it would take far too much of your precious time. So instead of looking backward, let's cast our gaze forward.
Recently, local music keystone
Urian Hackney
(
Rough Francis
) has opened up his studio at the Box for full-time production. Little over a week ago, Hackney released a pristine reggae track titled "Rocking Time" via Soundcloud. The cut debuted at Nectar's weekly Sunday series, Mi Yard Reggae Night.
Hackney was literally raised by the best reggae band to emerge from Vermont, Lambsbread, so let him teach you about Green Mountain rhythms. The track is completely self-produced, and it takes about ten seconds to understand that Hackney was born to be a sound engineer. "Rocking Time" balances bright snare hits and sparkly piano stabs with a syrupy bass line and thick kick drum. There's a vibrant, positive energy in Hackney's gorgeous vocals and lyrical message of consent and healthy love.
Just as his father, Bobby Hackney Sr., raised a cultural generation in 1990s Vermont with Lambsbread, Urian Hackney is already on his way to nurturing the next wave of Green Mountain sound. I can't wait to hear what comes out of his studio venture — specifically, expected collaborations with Burlington beat-maker,
Loupo
.