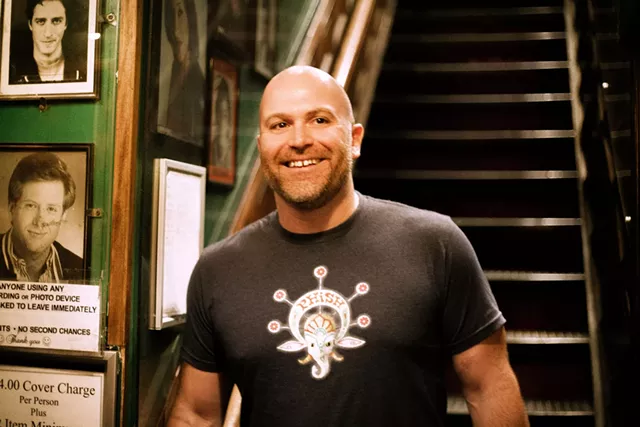 Courtesy of Mike Finoia
Mike Finoia
This just in:
Mike Finoia
hid a bunch of weed somewhere in Burlington back in November. At least that's what the NYC comedian claims on the opening track of his new comedy album,
Live in Burlington
, which was released last Friday, March 17.
"Somewhere in this city I hid a full jar of amazing weed and it's up to you to find it," he tells a hysterical crowd. "So tomorrow, just Pokémon Go yourselves around Burlington, follow your nose. Champ helped me hide it, so it might be by the lake. It might be at Nectar's. I don't know."
Calls to Champ and Nectar's regarding the hidden weed were not immediately returned … or made.
Album Art By Bruno Tracy
Mike Finoia, 'Live in Burlington'
Finoia recorded the album over a two-night, four-show run at the Vermont Comedy Club in Burlington in November, just days after the election. Naturally, Trump comes up occasionally, alongside sharp riffs on love, marriage and aging. But Finoia's favorite topic might be the Queen City itself.
As
Finoia told Seven Days
before the recording, he's had a crush on Burlington since college. He even plans to call BTV home someday.
"Everybody has their own definition of success," he said in that interview. "Mine is just to have a place on the lake in South Burlington and live amongst the great people of Burlington."
Finoia's affection for Burlington is on display throughout his new album — not to mention on the cover, which was designed by local artist Bruno Tracy. But that doesn't mean he's above skewering some of our more insufferable Vermont-y traits.
"I love Burlington. I love coming up here," says Finoia as he takes the VCC stage. "I love being reminded of how shitty and unhealthy I really am by you jerks. Just when you start to feel good, I see a Subaru Outback with a 26.2 sticker on the back and I wanna fuckin' kill myself."
Listen to the first track from
Live in Burlington
below. The album is available for purchase
at iTunes
.