Gundi Vigfusson
Sam Harnett and Chris Hoff of "The World According to Sound"
This week, what is possibly the world's shortest radio show comes to Vermont. Kind of.
The World According to Sound
is a 90-second sonic series produced by San Francisco-based radio guys Chris Hoff and Sam Harnett. It airs weekly on public radio stations including NPR's "All Things Considered."
On March 25, Hoff and Hartnett will stage a
live
— and extended — version of the show at the University of Vermont. The performance kicks off their East Coast tour, which also stops on March 31 at Town Hall Theater in Middlebury.
Each episode of the show focuses on a different sound, as the title implies. Their selections are unpredictable and yet somehow completely mundane: Sounds made by people, animals and things that we usually only pay attention to in the context of a larger story. Together, Hoff and Harnett have broadcast the fuzzy thump of a pulsing artery, the roar of political protest, the labored sound of a coal miner's breath, and the wet gurgle of mud pots.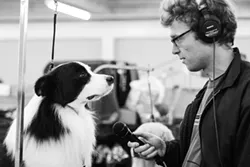 Alyssa Kapnik Samuel
Chris Hoff interviewing a dog
For the tour, Hoff and Harnett adapted their radio format by stitching together more than 20 of their 90-second episodes. Eight speakers placed around the room give the sense that the sounds are coming from different directions.
During the performance, audience members wear eye masks to heighten the experience by cutting off visual stimuli. Harnett and Hoff provide a little narration to let folks know what they're listening to.
Hoff is a sound engineer for KALW, a public radio station in San Francisco. He and Harnett met there as interns "back in the day," they say during a phone interview. Harnett, a Middlebury College grad, is now a reporter for KQED radio, another public station in the Bay Area. He has an enticing voice, which he uses for about 30 seconds of each radio clip. Hoff recently started narrating some episodes as well.
But he doesn't want to reveal too much. Hoff and Harnett aren't in the business of telling stories, and they don't want to be.
The agenda of the show — both radio and live versions — Harnett says, "is pretty simple. We are a completely vision-saturated culture, and we're constantly being told what to think. The show is a way to experience sound and
have
space to [let your mind] wander."
Even if it only gets to wander for 90 seconds at a pop. Harnett says the most criticism they've received on their format comes from radio professionals. "There's this impulse in the radio medium to do these long, intimate programs," he says. "When Chris and I set out to do the show, the whole idea was
How can we do something that's not focused on a story, focused on a narrator?"
Their solution? Make it short, and scrap any semblance of a narrative arc.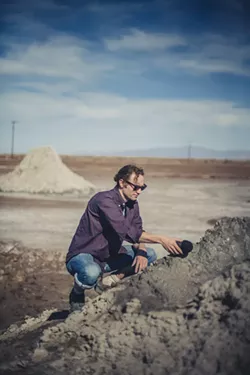 Gundi Vigfusson
Sam Harnett interviewing a mud pot
The format works — and
certainly
doesn't require a long attention span. Each episode feels different. Some are relaxing, some compelling, and some are just plain funny. Because, despite the lack of storyline, the subjects retain emotive value, as in the case of the coal miner with black lung disease, or the sound of people protesting President Trump's proposed travel ban on January 28.
Some of the sound tracks just make you curious. The thumping artery is soothing and hypnotic, but you can't help but wonder at the intricacies of our organs.
To some, the idea of snapping on an eye mask and listening to singing roads, walking ants and the world's loneliest whale might sound like NyQuil for your ears. But Hoff says that listening can also be an emotional trip.
"A lot of people are saying that they go through [many] different emotions [during the show]," he says. "The beginning is kind of intense, and the intensity can be uncomfortable, but then we get into other sounds."
And while there may be relief from that intensity, "it isn't all just the sound of the ocean and birds," Hoff continues. "It's actually really, really challenging. Although it's meditative at the same time." [event-1]
Correction, March 20, 2017: An earlier version of this post misstated the number of narrators in the live and radio shows. Both Sam Harnett and Chris Hoff provide narration.