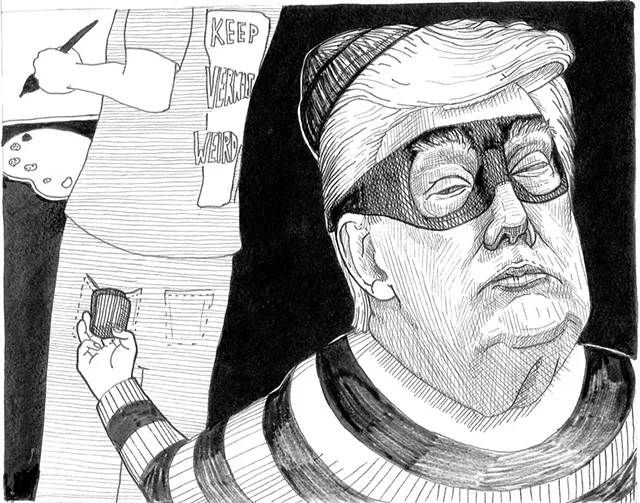 In February,
Seven Days spoke with
the heads of various local arts groups to gauge reaction to then-rumored federal budget cuts to the arts and public broadcasting. Responses from the likes of Flynn Center for the Performing Arts executive director John Killacky, Vermont Arts Council executive director Alex Aldrich and others could essentially be summed up thusly: "
Sheeeeeit
."
At the time, theorizing what dramatic federal budget cuts would mean locally was a speculative exercise. But, earlier this week, speculation took a step closer to becoming reality when President Donald Trump unveiled his first budget plan for the fiscal year 2018. Among the
dozens of organizations and programs on the chopping block
, the National Endowment for the Arts, the National Endowment for the Humanities and the Corporation for Public Broadcasting are all proposed to be eliminated or zeroed out.
As presently constructed, Trump's budget is unlikely to pass. And it's
already rankled even conservative lawmakers
in Washington, D.C. Still, the president's proposal represents the clearest threat to federal arts funding in decades. So, how much money would disappear from arts budgets in Vermont? You might want to sit down for this: $4.7 million.
That's according to Killacky, who estimated the total amount of federal arts dollars flowing into the state based on 2016 numbers. The estimate includes grants from the NEA, NEH and CPB, as well as the Institute of Museum and Library Services, the last of which funnels money to, obviously, museums and libraries. Here's Killacky's breakdown:
NEA: 14 grants totaling $983,000 — $718,800 of which went to the VAC.

NEH: Eight grants totaling $853,072 — $579,802 of which went to the Vermont Humanities Council.

IMLS: Five grants totaling $1,147,409 — $914,092 of which was a block grant.

CPB: $1,723,623 — $969,113 to Vermont Public Television; $754,510 to Vermont Public Radio.


Killacky adds that these numbers don't include federal money granted to the state by organizations such as the New England Foundation for the Arts, the National Performance Network and others. The numbers also don't reflect the leveraging effect that federal dollars trigger locally. For example, every dollar from the NEA generates close to $13 from public and private sources, according to Aldrich. That means the real cost of Trump's budget cuts is exponentially higher than $4.7 million.
"It's complicated to get any one number," says Killacky, noting that even he was surprised at how much federal funding local arts orgs collectivelyrely on. "But this is a start," he continues. "It's an interesting moment for us to grapple with the enormity of this."
Yesterday, the
VAC put out a call to action
urging supporters to contact their national, state and local reps to register opposition to Trump's planned cuts.
Unsurprisingly, Killacky is deeply concerned over what Trump's cuts would mean, not just to the arts or his own organization but to the greater cultural well-being of the state. To illustrate his point, he cites the wording of the legislation that created the NEA and NEH, the
National Foundation on the Arts and the Humanities Act of 1965
.
That act, signed into law by President Lyndon B. Johnson, states that "Democracy demands wisdom and vision in its citizens." As such, it calls on government to "help create and sustain not only a climate encouraging freedom of thought, imagination, and inquiry but also the material conditions facilitating the release of this creative talent."
"When I look at that, I think,
Well, how beautiful and how aspirational for what the arts, humanities and public broadcast media do in society
," Killacky says. "We're at the precipice of undoing 50 years of investing in cultural legacies and a common ground for people to gather. And it's tragic."