It's Monday, which means it's time for your weekly dose of locavore levity: the Joke of the Week! This week's joke comes from South Burlington's Owen Foley. Take it away, Owen…
I finished a book today, which is a great feeling. Not just the sense of accomplishment, but knowing that now I get to pass that book on and share the gift of knowledge with someone I care about.

There is nothing like walking up to a friend and saying, "Hey, buddy. I was thinking about you, now here is some homework."

About That Joke
Says Foley: I did finish a book — that Katniss Everdeen is a badass — and I was torn between two people that it made me think of. And while deciding, I realized that I had never seen either of them read anything, so it would probably be a burden to either of them. So I donated the book to the library.
Meet the Comedian, Owen Foley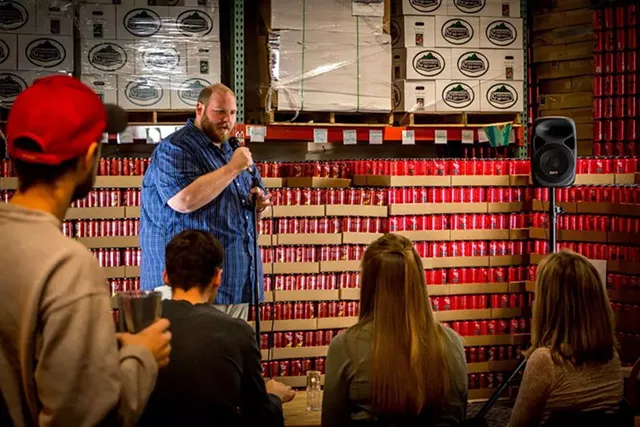 Courtesy of Owen Foley
Owen Foley
Owen Foley
is a pharmacist, comic and storyteller who performs all over Vermont. He produces a monthly show at Havoc Mead at Colchester's Mead Hall in Colchester. Owen dislikes writing about himself in the third person, but Owen will do what Owen must do.

See Him Live
Foley hosts Stand Up for the Lake, a benefit for Lake Champlain International, on Friday, March 17, at Mead Hall.
Think you can do better?
We're always looking for jokes from local comedians. We publish one joke each week, and you can read through previous ones
here
.