Sadie Williams
Rabbi Jan Salzman reading the story of Esther
Saturday night, while hordes of partiers faced a frigid Mardi Gras, a group of art-savvy community members staged a politicized retelling of the story of Esther. Yes, Purim came to ArtsRiot in Burlington's South End.
Organized by Rabbi Jan Salzman,
leader of the new nondenominational Rauch Hamoqom congregation
, the show was a raucous affair that poked fun at current political figures in a lighthearted, dance-heavy atmosphere.
The Book of Esther appears in the Hebrew Bible. As the story goes, Esther is a concubine of the king. When she hears of a plot by his adviser, Haman, to kill all the Jews, she risks her own life to beg the King to spare her people.
The actors and organizers in last night's revelries included art activist Jen Berger, Junktiques owner Phinneus Sonin, Nicole D'Elisa of Nico Suave and the Bodacious Supreme, musician Sarah Griffin, artist Jabari Jones and Salzman's husband, Loredo Sola.
Per tradition, Salzman read the story of Esther aloud while the players enacted the scene around her. Berger portrayed the Jewish Esther — although, in this telling, it was not her faith but her feminism that she had to hide from the king, Ahasuerus, by tying a scarf over her
pussyhat
.
"King A," as Salzman jokingly called him, was a clear stand-in for the current president of the United States. He was represented by a massive cardboard puppet operated by Jones. The evil adviser Haman — whom the crowd was encouraged to boo — seemed to portray presidential adviser Steve Bannon. He wore a fuzzy, pink Hello Kitty bathrobe.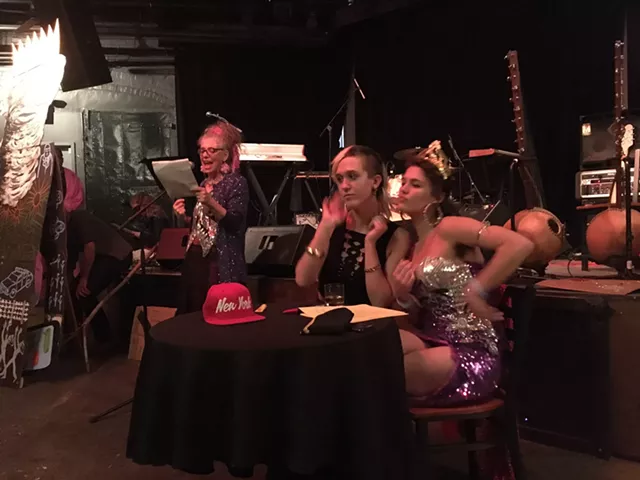 Sadie Williams
Sarah Griffin and Nicole D'Elisa as members of King A's harem
Other jabs at the current administration included the comparison of King A's hunt for a new wife to Donald Trump's infamous beauty pageants. And Esther's guardian, Mordecai, merged with the character of Bernie Sanders. Sonin played the Vermont senator with an impeccable Brooklyn accent.
Musical performances bookended the program, first by the Brass Balagan and later from Barika. All in all, it was a time for dancing. And the political content served not to weigh people down but to get them laughing.
Bonus: The evening was replete with stunning outfits. Attendees were encouraged to wear masks, which ranged from colorful Mexican lucha libre masks to face pieces reminiscent of Renaissance plague doctors' masks, with long curved beaks.
If awards had been given for attire, Salzman would likely have taken home first place for hers: a sequin butterfly top and sparkling blue jacket over a black, knee-length petticoat skirt paired with red tights. Plus, flowers in her earrings and hair. D'Elisa's sequin column dress was a close contender.
Salzman billed last night as the first annual Purim masquerade. Here's hoping the tradition continues — including the free chocolates and donuts from
Miss Weinerz
.