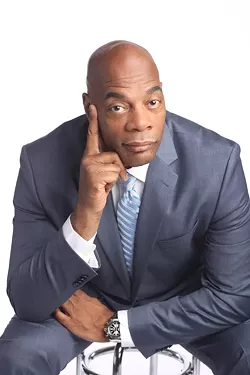 Todd Rosenberg
Alonzo Bodden
Alonzo Bodden
is likely best known as a regular panelist on NPR's "Wait Wait … Don't Tell Me." The nationally syndicated radio show plays to the comic's strength as a purveyor of sharp social and political commentary — not to mention his rich baritone voice.
Bodden entered the national spotlight as the winner of the "Best of the Best" competition on season three of "Last Comic Standing" on NBC. He's parlayed that into two hour-long Showtime comedy specials, most recently last year's brilliantly biting "Historically Incorrect." Bodden also hosts his own acclaimed podcast, "
Who's Paying Attention
?" where he riffs on everything from politics to cars to his love affair with the Los Angeles Clippers.
Bodden performs this Thursday through Saturday, March 2 through 4, at the Vermont Comedy Club in Burlington.
Seven Days
recently spoke with him by phone from Los Angeles.
SEVEN DAYS: I understand you just got back from a cruise.
ALONZO BODDEN: Yeah. I start out the year doing charter cruises. I did a jazz cruise. This last one was an '80s cruise. They had artists on like the Romantics, Men at Work, Tiffany, Belinda Carlisle. It was fun.
SD: Tiffany! Wow. I went on my first and, I hope, only cruise about a year ago. Mine was a work thing, this southern-rock cruise with a bunch of has-been bands. So, my view of cruising might be tainted. But you seem to enjoy them.
AB: I tell people about cruises, what I've learned is that you've got to do the right cruise. I love jazz, so that's good for me.
For comics, working cruises can be really boring, because you've gotta do a really clean act. But because I work with charters, it's a different gig. I can do whatever I want. It's a late-night show and the cruise is all adults, so it's not the same as a regular cruise gig.
SD: That's actually why I brought it up. I was wondering how much you have to adapt your material for that audience.
AB: It isn't so much about the cruise crowd. The thing is that people are on vacation, versus coming to a comedy club, so I don't hit as hard. And since I do two shows a week for basically the same audience, I do a lot more improv and crowd work. I'm not going to do as much social and political content.
SD: Just a word of advice: I'd avoid southern-rock cruises.
AB: [Laughs] I will, thanks.
SD: On your latest podcast, you had a riff about how you would have declined to host the White House Correspondents Dinner had you been asked, which you weren't. Can you expand on that?
AB: So, the thing about that is that whenever people read something on Facebook — which is both the best and worst thing to ever happen to us — they read what they want to read in something. What happened was that TMZ posted a hypothetical question to a bunch of comics: If you were asked to host the dinner, would you?
So I posted a clip of that interview on Facebook. And the part that people glossed over was "
If
you were asked." People were like, "Hey, I'm glad you turned it down." And I'm like, "They didn't ask me to do the White House Correspondents Dinner." I appreciate the fact that people thought I was one of those comics, but I think they'd ask about 20 people before they got to me.
SD: I don't know about that. But why would you turn it down?
AB: Because doing anything in D.C. now is, to me, endorsing this administration. To do that gig, even though you're making fun of Donald Trump, would be an endorsement.
The other thing is that, before he even said he wasn't going, I said you can't make fun of Donald Trump because he has no sense of humor, particularly about himself.
Also, I don't need the entire black and Latino community hating me. And I don't need my mom smacking me in the head. Plus, Trump supporters, they're angry people. They don't have a sense of humor. The minute you tell a joke, they'd be yelling, "Fake news! Fake joke!"
SD: The last president to skip the dinner was Reagan … because he'd been shot.
AB: And Trump will say, "I'm Reagan-esque." And his followers will be like, "Yeah, he is!"
Trump not going just proves that he's whiny, spoiled child. I liken it to the kid who doesn't get invited to the party so he says, "I'm not going to the party because look how bad the party is going to be." That's Donald Trump.
The whole thing is just a lose-lose operation. And now, with him not going, I think it's even worse this year.
SD: Can we start a petition to have Jeff Ross host it?
AB: [Laughs] He was one of the comics TMZ went to and Jeff said of course he would do it. But it would be a waste without Trump there. But he would be good. It's like when Lewis Black did it during the Bush administration, and even though Bush didn't go and Cheney went, it was still great because Lewis skewered him. Lewis joked about being scared to tell jokes with Dick Cheney close enough to punch him in the dick. Which is a scary moment.
SD: Did you ever think we would get to a point where George W. Bush comes off like a wise elder statesmen?
AB: Two things scare me about this administration. One is that I apparently agree with Kim Kardashian on immigration issues. The other is that I agree with George Bush on press issues. Those are two people I really didn't want to be in a camp with.
SD: You have a great bit in "Historically Incorrect" about health care, having recently donated a kidney to your brother. Given that experience, were you as surprised as Trump apparently was about how complicated the health care system is?
AB: The thing about health care is that, whenever you call a doctor, the first thing they ask you for is insurance. Not what's wrong, or how you're feeling. How are you going to pay up? The whole situation is broken.
But you can't be surprised about Donald Trump because he just doesn't know anything. The system is obviously broken. The funny thing is that Barack Obama tried to fix the system. But the mere fact that it was him, Republicans automatically said no. It wouldn't have mattered if he had said we're getting free health care and Russia is paying for it. They would have said no. It's ridiculous.
It's broken. And I believe that the first step is taking away congressional health care. You guys can't have better insurance than us. You have to go to the emergency room and wait four hours just like we do. Then they'd be like, "Wait a minute, there's something wrong with this."
SD: And then there are the folks who don't realize that Obamacare and the ACA are the same thing.
AB: I don't know who said it, but I love the quote, "People are smart. But
the people
are stupid."
To make the Affordable Care Act evil, they started calling it Obamacare. Because they knew that was the key word. Not that they're racist. It has nothing to do with race … yeah, right. These are the same people who were protesting, saying, "Keep the government out of my Medicare."
This is the country we live in. And we're gonna make it great again using very small words.