It's Monday, which means it's time for your weekly dose of locavore levity: the Joke of the Week! This week's joke comes from Burlington's Eric Dreiblatt. Take it away, Eric…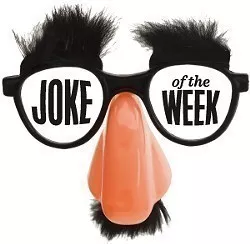 A whorehouse that sells soup is a brothel.

About That Joke
Says Dreiblatt: This joke hit me on the head while standing in line at the gas station. I wrote it down on the side of a coffee cup before it fell out of my brain.
Courtesy of Eric Dreiblatt
Eric Dreiblatt
Eric Dreiblatt is a Burlington-based standup comedian, VPR commenter, writer and host. He runs the Fun and Game Show at the Vermont Comedy Club and the Drink Comedy Open Mic at Drink Bar every Tuesday.

See Him Live
Dreiblatt performs at Cup of Comedy: A Standup Showcase at Radio Bean in Burlington on Sunday, February 26.
Think you can do better?
We're always looking for jokes from local comedians. We publish one joke each week, and you can read through previous ones
here
.