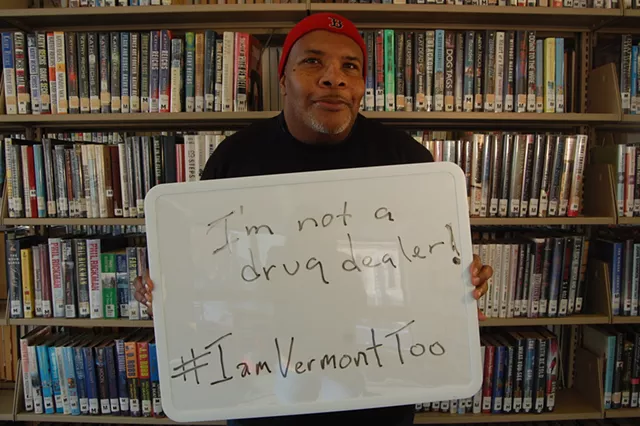 Courtesy of Alyssa Chen
Reuben Jackson
In February 2015, then-governor Peter Shumlin declared February 12 — the birth date of Abraham Lincoln — as Black Lives Matter Day in Vermont. In the two years since,
Black Lives Matter
has, as a loose racial justice network, grown in visibility nationally as well as in Vermont. Today,
Black Lives Matter VT
kicked off a four-day spree of events, beginning with this morning's Black Caucus breakfast at the Statehouse. It included the unveiling of a photography exhibition, titled
"I Am Vermont, Too,"
in the capitol's cafeteria.
In each of the 16 portraits on view, subjects hold a white board indicating racial micro-aggressions they've personally experienced in Vermont. Introductory exhibition text explains racial micro-aggressions as "subtle behaviors, acts or environmental conditions that either intentionally or unintentionally communicate hostile, derogatory or negative racial slights and insults towards People of Color."
A tag accompanies each image with the person's name and age, how he or she racially identifies, and a short bio.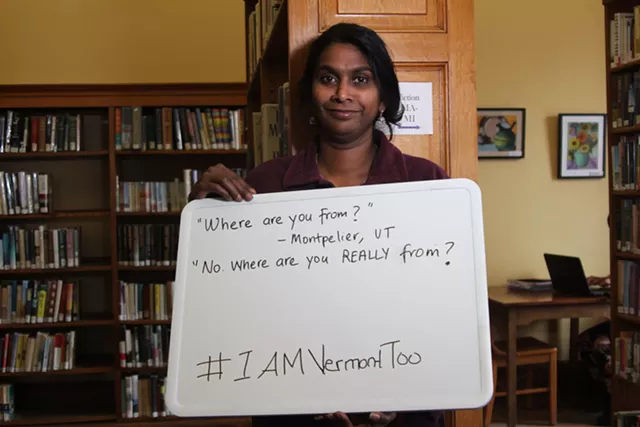 Courtesy of Alyssa Chen
Lalitha Mailwaganam
Shela Linton, BLM organizer and founder of
The Root Social Justice Center
in Brattleboro, described the project as a "collaborative effort" born from a desire to build relationships among people of color throughout the state. It was modeled after the 2014 initiative
"I, Too, Am Harvard,"
and stylistically fits among a plethora of cause-driven, internet-centric image-and-hashtag campaigns, such as #BringBackOurGirls or #INeedFeminismBecause.
In Linton's portrait, the white board reads, "Yes, I'm a native Vermonter." Born and bred in Brattleboro, she said she is constantly asked where she is from, and where she is
really
from. "People are mesmerized ... [that] there are actually black people
born
in Vermont," she said.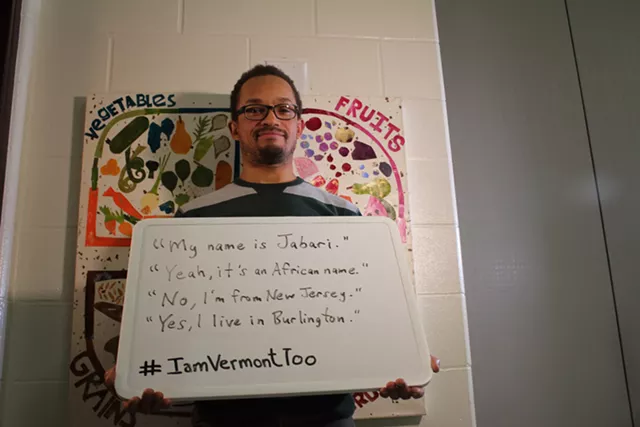 Courtesy of Alyssa Chen
Jabari Jones
Linton stressed the importance that the exhibition be wholly enacted by people of color. A goal, she said, was to "utilize that variety of tools and skills PoC have that we don't get to have ownership of." Exhibition text claims, "This is the first known statewide, multigenerational project done only by People of Color living and going to school in the state of Vermont."
Alyssa Chen and
Ezlerh Oreste
shot the portraits. Oreste, who lives in Guilford, joined the effort just a couple of weeks ago, after learning that the team was looking for a southern Vermont photographer. He joked with Burlington-based racial justice organizer Senowa Mize-Fox that they had worked on "people of color time" — making a lot happen in a short period.
Rachel Jones
Portraits in "I Am Vermont Too"
Exhibition organizers did, however, solicit donations from the community at large, raising $700 of a $3,000 goal through crowdsource platform YouCaring. The funds were put toward professional printing and framing. Linton directly reached out to Brattleboro businesses, as well:
Lotus Graphics
printed all of the images free of charge, and
Zephyr Design
donated eight of the 16 frames.
Linton noted she was "shocked by how willing they were to support this project — they didn't really blink an eye."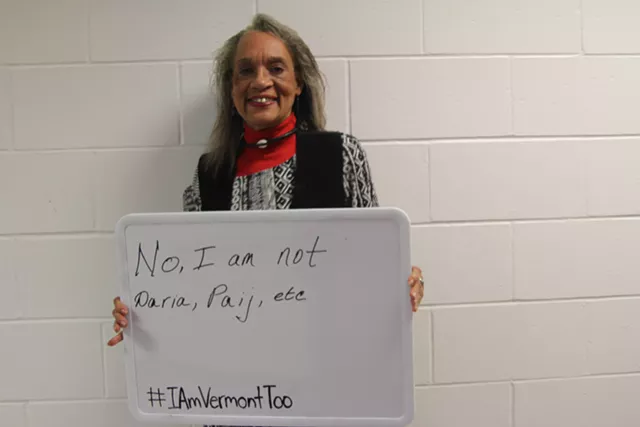 Courtesy of Alyssa Chen
Sha'an Mouliert
Sha'an Mouliert, 68, has lived in the Northeast Kingdom since 1983. She and her husband moved to Derby Line from New York City after adopting their son. Citing the mortality rate for young black men, she said, "I didn't feel safe living in the city." But living in northern Vermont was "a real culture shock," she said, and navigating the educational system for her young son "was where issues of race came to the forefront for me."
Mouliert explained that in Vermont she has become accustomed to being mistaken for other women of color. Last Friday, she said, while demonstrating against the proposed immigration ban in St. Johnsbury, she was called another woman's name by a white man — three times. "[This is] white male supremacy culture," she said. "Right as I'm informing you, you are not hearing me."
When asked why she stays in Vermont, Mouliert answered, "Freedom and unity. Our state motto keeps me here." And, she said with a laugh, " I'm an eternal optimist."
Alyssa Chen
Sharonna Henderson
One of the most interesting aspects of "I Am Vermont Too" is that, according to Linton and Mouliert, the project was an effort to increase the visibility of Vermont people of color to
each other
, not just to white Vermonters. Linton said she hopes the project will continue to grow, making use of Facebook as a "tool to gather pictures and people and, from those, build relationships."
"I see this being a great resource," Mouliert said. "We're building a library to document experiences — unedited — of people of color [in Vermont]."
Both women noted that reaching out to potential participants sometimes involved explaining the word "micro-aggression." Linton described one response:
Oh, that's what it's called? I experience that every minute of the day.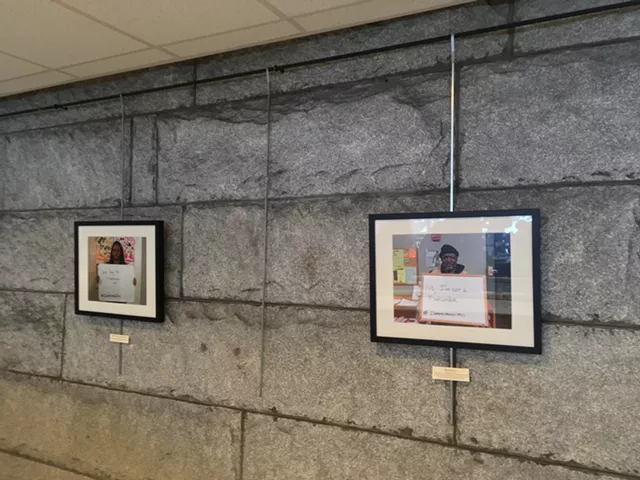 Rachel Jones
Portraits in "I Am Vermont Too"
Linton secured the Statehouse Cafeteria space after reaching out to Statehouse curator David Schutz about a year ago. Schutz admitted that he took some convincing. "I'm used to policing the cafeteria [and there's] one major rule: It has to be art," he said. "Advocacy in the Statehouse is something lots of people want to do." But, he said, he was satisfied after a couple of conversations, during which he was shown an image and told about the photographers.
This is a time when major art platforms such as
Artsy
are publishing articles such as
"How Memes Are Making Protest Art More Powerful
," when young women of color can become meme celebrities through Instagram, and when a Los Angeles gallery shows
"self-aware memes."
It is a time when the lines between art, politics and politically motivated, internet-driven images are particularly thin.