It's Monday, which means it's time for your weekly dose of locavore levity: the Joke of the Week! This week's joke comes from Burlington's Annie Russell. Take it away, Annie…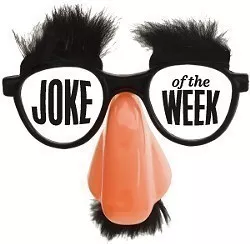 As a journalist, it gets harder and harder to cover Donald Trump now that he is president. It can be tempting to disregard the issues in favor of writing about his outrageous tweets.

Just the other day Trump tweeted, "Obama is a co-founder of ISIS," which is ridiculous. To reach that membership tier, you'd have to give way more money than Obama did.

About That Joke
Says Russell: Misdirection is one of my favorite things about comedy. I love telling this joke in a conservative room. At this point in my set, the audience knows I work for public radio. So, during the setup, it's assumed I'm about to go into an anti-Trump rant. That's what makes flipping it so much fun.
Plus, the "membership-tier" reference is a an inside-baseball term for the public radio nerds out there.
Meet the Comedian, Annie Russell
Courtesy of Annie Russell
Annie Russell
Annie Russell
is an emerging comic based in Burlington, Vt. She is a two-time finalist in the Vermont's Funniest Comedian contest, and has performed in the Boston Comedy Festival, Green Mountain Comedy Festival and the Waking Windows Festival, among others.
She hosts Cringe!, a celebrated monthly show, and
No Chill with Annie Russell
, a podcast.

See Her Live
Russell cohosts United We Standup, A Political Comedy Show at the Vermont Comedy Club in Burlington on Wednesday, February 8. She also hosts Cringe! A Night of Romantic Humiliation at the Vermont Comedy Club on Tuesday, February 14.
Think you can do better?
We're always looking for jokes from local comedians. We publish one joke each week, and you can read through previous ones
here
.