Rachel Jones
S.P.A.C.E. Gallery's Spaceman mural by Adam Devarney
The Thursday before the inauguration, Burlington artist Devin Wilder needed a space to screen-print some patches for the Women's March on Washington. She ended up making her run in Burlington's South End
Backspace Gallery
, a part of Christy Mitchell's longstanding
S.P.A.C.E. Gallery
.
The gallery and studio collective — whose acronym stands for Supportive Places for Artists and the Creative Economy — seems to be living up to its name. On January 20, Mitchell launched the fluid community art experiment "100 Days of Space for Creativity" in response to the threat posed to the arts and freedom of expression by the Donald Trump administration, based in part on
reports of the intended elimination of the National Endowment for the Arts
.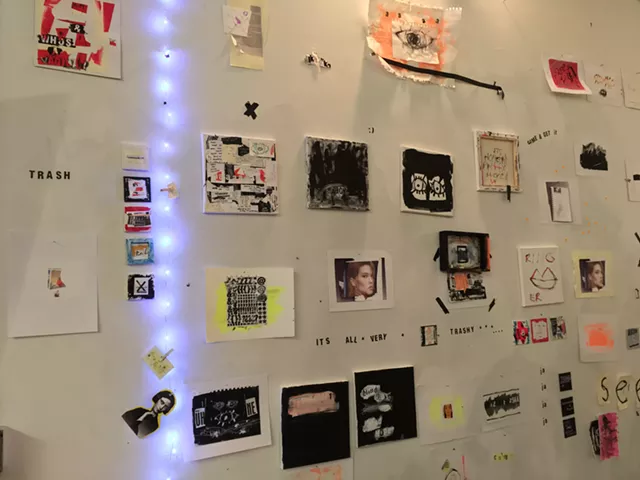 Rachel Jones
Wall of works by Leah Dinkin
Essentially, the gallery will become a hub — with open workspace and exhibition space — for artists and arts-inclined community members. On Thursday, Friday and Saturday from noon to 5 p.m., individuals can congregate and get creative.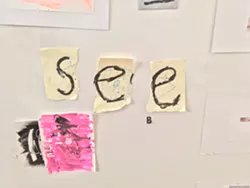 Rachel Jones
Work by Leah Dinkin
"Inspired to act in response to the call to defund the arts on a federal level," Mitchell's statement reads, "the Backspace will serve as a free and open space to work in while you process reactions to our current political climate. Artists may use table space to make work, may use our hanging supplies to install a piece or installation, and may propose use of the gallery for hosting a talk or performance during the 100 days that follow the presidential inauguration."
Rachel Jones
Detail of "One Equals Zero" by Franky D.
"I don't know what's going to happen," Mitchell told
Seven Days.
" My vision for [this] is to excite people, to inspire people."
Already, she has mounted a wall of small collages made from street detritus by Burlington artist Leah Dinkin, as well as two paintings contributed by S.P.A.C.E. studio artist Franky D. Dinkin's irreverent paper-based works encapsulate themes of trash, trashiness and disposability, female sexuality and plenty of eyes and sight-based references.
Of his painting "One Equals Zero," Franky D. said, "is based on my feeling that my one vote did not count … spawned by the Trump election and recent Prop 3 and 4 victories."
Rachel Jones
Christy Mitchell holds patch by Devin Wilder
Mitchell sees this art-production endeavor as separate from the exclusivity often associated with galleries and art institutions. During the 100 days, she said, she will make herself available for "on-the-spot critiques" and provide whatever counsel folks may be looking for in terms of their artwork and career. "Those little bits of encouragement are important in any artist's life," she said.
What local artists will make of the Backspace's 100 days remains to be seen. The exciting part is that it's up to them.