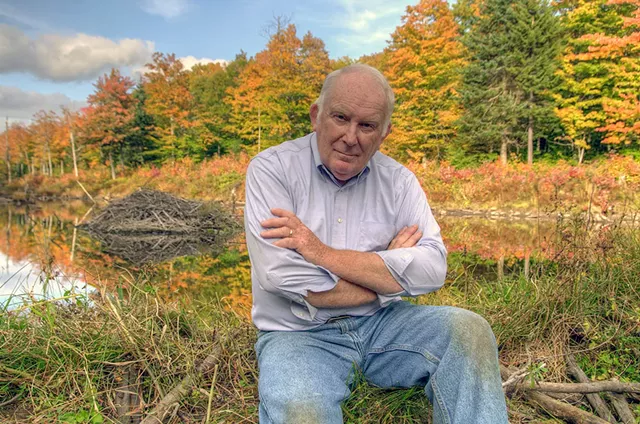 Jake Mosher
Howard Frank Mosher
I expected
Howard Frank Mosher
to live in a more memorable home.
I figured "the bard of the Northeast Kingdom," as a
Vermont arts organization
rightly described him last week, a man who made a life writing honestly but lovingly about the region and its people, would live off a long dirt road in a house screened from passersby by a grove of trees, with views of the nearby mountains. Mosher must do his writing, I assumed, in a sun-drenched office, or maybe a small cabin on his property.
But Mosher lived in a perfectly nondescript home, alongside several others, just off the green in Irasburg. I initially drove past it when I went to interview him in the spring of 2015 because, well, how could that possibly be the home of a writer of 11 novels, four of which were adapted for films?
After he ushered me inside, I asked Mosher where he did his writing. He walked me to a dining room table that was cluttered with domestic detritus and offered a view of his back yard and his neighbors.
We sat at that table for an hour or two and, though I doubt I asked him anything that journalists hadn't asked him dozens of times before, he eagerly answered everything I threw at him about his writing and his newest novel,
God's Kingdom
. The book was set, as many of his stories were, in Kingdom Common, a thinly veiled version of the region that was Mosher's adopted home. It was the muse that sustained him through a five-decade literary career.
But most of the stuff I remember discussing with Mosher never found its way into the subsequent story I wrote for
Seven Days
.
We spent a lot of time talking about two mutual passions: baseball and novels. Mosher was a die-hard Red Sox fan, and I have stayed true to my Baltimore Orioles through a dozen years of living in New England. But we managed to find common ground. I droned on for too long about my love of Thomas Wolfe's novels. (Who the hell was I to give book recommendations to Howard Frank Mosher?) Mosher was more of a Faulkner guy, if memory serves. Then he suggested I check out a few books from the modern southern writers Ron Rash and Tom Franklin. Which, later, I dutifully did.
Once, Mosher leaned over and pulled a few papers from a briefcase that looked older than I am. I stole a glance and saw, tucked inside it, a can of Budweiser.
I drove away wishing the guy was my grandfather.
I wish I could say that Mosher was my friend, but, in truth, I only talked with him a few times after that day. I called him a couple times to pick his brain about news stories in the Northeast Kingdom. Once, he gave me a story tip.
But though they were few, those interactions had an outsize influence on me. I suspect this will be a common refrain among many people who provide testimonials in the days to come about Mosher, who died today, January 29, from cancer at the age of 74.
I'm sure they will remember, as I do, his warmth, his utter lack of pretense, his undimmed curiosity, his enthusiasm for a good yarn, his endearing cackle and, most of all, his fundamental decency.
I last spoke with Mosher in mid-November, just a few weeks before he received his terminal diagnosis.
It was the week after Donald Trump's victory, and I had been sent to the NEK — the one region in Vermont where many towns went red on Election Day — to talk to the Republican candidate's local supporters.
I didn't find many people to talk to, and those who did talk didn't seem, to my ears, to have anything meaningful to say. In short, I had nothing. Desperate, I pulled into the parking lot of a long-shuttered gas station in Burke and called Mosher.
I suspect that he heard a bit of despondency in my voice. I suspect, too, that in those dizzying days, he wanted to talk through the news with someone. (Mosher was no fan of Trump.)
That phone call salvaged the entire reporting trip. Mosher's thoughts — particularly a piercing anecdote about an instance of racism he witnessed in Irasburg only a few years ago — were pretty much the only worthwhile part of the story I filed.
It was one of those conversations that I knew would stick with me, even without the benefit of hindsight.
Mosher's good friend and fly-fishing buddy, the Barton poet Leland Kinsey, had recently died, and Mosher had written a lovely little tribute to him. It was centered on a day he and Kinsey had spent fishing for brook trout in the Kingdom.
I told him how much I enjoyed the story.
Then I told him that I had recently taken up fly fishing and fallen in love with it. Mosher listened patiently for a few minutes as I unloaded a stream of half-baked thoughts.
I told him that, when I somehow managed to catch a trout, it seemed like a miracle I didn't deserve. I told him that fishing had made me look at rivers differently and, therefore, made me drive more slowly on my reporting excursions across Vermont. I told him that it quieted my mind in a way nothing else ever has.
Mosher chuckled knowingly throughout. When I was done, he shared with me what he loved best about the pastime. I wish I could remember everything he said.
But one thing I will never forget: Mosher invited me to come to the Northeast Kingdom and fish some of his favorite holes with him this spring.
It didn't seem like a throwaway offer — the man was allergic to insincerity. But, even if it was, I was determined to take him up on it.
In my head, I began rehearsing the awkward phone call I would force myself to make: "Hey, Mr. Mosher, remember in November when you said we could go fishing? Umm … can we still do that?"
I learned that he planned to release a novel in the spring and would probably have to do some publicity. Maybe I could use that as an excuse to call.
I had it all figured out. I'd wait until late April or early May. That way, I'd have a few early spring weeks to practice my casting. Baseball season would be well underway, so we'd have something to talk about besides my ineptitude at coercing trout from the water. I would bring a couple cans of Budweiser.
That he finished the novel he was working on,
Points North
, before he died is a gift to us all. But I'm always going to regret missing out on the chance to spend a spring day on the water with Howard Frank Mosher in his Kingdom.