Courtesy of Greg Proops
Greg Proops
We could have asked
Greg Proops
about many things. We could have asked about his time on the beloved British improv comedy TV show "Whose Line Is It Anyway? — or its American successor of the same name. We could have talked about lending his voice to Tim Burton's
The Nightmare Before Christmas
and various
Star Wars
projects over the years.
Or we could have pimped his latest standup comedy special, "Live at Musso and Frank's." Or picked his brain about his acclaimed podcast, "The Smartest Man in the World" — which
Rolling Stone
lauded as "some of the boldest comedy on the podcasting frontier right now." And then there's his latest book,
The Smartest Book in the World: A Lexicon of Literacy, A Rancorous Reportage, A Concise Curriculum of Cool
. Or we could have shot the shit about
baseball
, fer chrissakes — dude's a rabid fan.
But when
Seven Days
spoke to Proops by phone last week, we didn't ask him about any of that stuff.
That's because we connected with him at 3 p.m. EST on Friday, January 20. In other words, about three hours after Donald J. Trump was sworn in as pres… well, you know.
Unsurprisingly, the outspoken Proops — whose
Twitter bio
reads,"We fight Trumpism" — had some thoughts. Here they are, unfiltered save for a few clarifying edits.
Greg Proops appears at the Vermont Comedy Club in Burlington this weekend. On Thursday, January 26, he'll do a live taping of his TSMITW podcast. On Friday and Saturday, January 27 and 28, he performs four standup shows — two each night. Local comedian
Tim Bridge
hosts each. [event-2]
SEVEN DAYS: So … that happened. Thoughts?
GREG PROOPS: Well, I'm not a big fan of white people right now. I don't think white people are gettin' it done — between Putin and James Comey and the rich white people who really backed Trump and all of the poor white people that he fooled.
I mean, the address was straight out of the fascist playbook. "America First" is a famous expression from before World War II for isolationism and racism. It's not a code word. It's a clanging klaxon. It's racism.
So I thought it was kind of a drag today. Watching Michelle's face gave me some hope, because it looked like she was almost in physical pain. Obama looked like he was going to spew at one point.
Bush
looked like he was going to lose it. I thought Hillary carried herself with some dignity.
But the fact that they chanted "Lock her up" at the inauguration gives you some idea of the mindset of his supporters. That kind of abusive, sexist weirdness — women need to be locked up, women need to be beaten, women need to be "Trumped" — it's pretty clear what the message is.
And that's why I'm disappointed when I see women supporting him. None of this got through to you. Or you've got Stockholm Syndrome so bad. Or your situation is so bad and you're so used to being subservient to men that this is just one more asshole you're going to do it for.
I wish I was funnier about this right now.

SD: It's OK. I don't think many of us are in especially good humor at the moment.
GP: We will be funny in a couple of days. But we're clinging by a thread here. His speech was clearly written by Steve Bannon, because it has all of the notes he likes to hit. What was it? America's a desolate place full of abandoned factories like tombstones?
SD: Something like that.
GP: It was like this weird
Escape From New York
scenario that isn't really happening. But then, nothing he says is even near the truth.
Also, we're going to "give America back to the people." That means white people. Black people had America for too long and having a black president was giving them a voice. And that wasn't really happening for [Trump's] people. They want to wear red hats and be obese and ugly and horrible.
SD: Speaking of horrible, did you watch the inauguration concert?
GP: I watched some of the festivities last night. Oh my God. As my wife said, they have the ampersand from Sam & Dave.
SD: Now that's funny.
GP: I've never seen such a crappy talent lineup. The Banana Splits were booked, I guess. It was really bad. Toby Keith is such a repulsive white supremacist and so is Lee Greenwood.
SD: I guess when you threaten to gut arts funding, you get stuck with Three Doors Down at your inauguration concert.
GP: They had Tony Orlando without Dawn, Sam without Dave. You're killing me. And they introduced Toby Keith like he was a superstar. He's a country star and he's not even as much of a star as he was 20 years ago. And they introduce him like he's one of the greatest recording artists of all time. But
he can't sing
. And then Kellyanne Conway's outfit today…

SD: "Propaganda Barbie" was the best description I saw.
GP: She looked like the Boston Patriots logo from when I was a kid. I don't know if she was auditioning for Paul Revere & the Raiders or what was happening. But this is the class we can come to expect. We're at the petty-tyrant level of taste.
SD: At least Chuck Schumer had the guts to acknowledge that there are, in fact, people other than straight, white people in the country.
GP: And they booed him. [Trump's] crowd is full of hate. They're hateful and fearful. He's giving them free rein to pursue anti-Semitism and racism, queer-bashing, hassling Muslims. They really feel free to do all this stuff now.
In one way, it's tragic. But, as my wife points out, in another way, the roaches are out and we're shining a light on them. There's no hiding anymore. He's a white supremacist nazi. And his followers are white supremacist nazis. And if you sign off on him, if you work with him, if you're in his cabinet, you are, too. There are not a lot of shades of gray on this.
I think Mitch McConnell and Paul Ryan are going to smoke a big, fat turd in purgatory. They seem to believe in an afterlife. But they're not going to enjoy a pleasant one, because I don't think God is going to smile on them. She's too pissed off right now.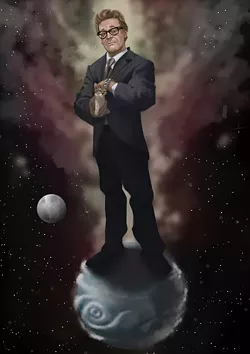 Courtesy of Greg Proops
The Smartest Man in the World
SD: Speaking of pissed off, what are your thoughts on the protests today?
GP: I'm glad they're protesting. But I think the rioting is pretty stupid. The destruction of property and violence are two things I never condone. And knocking out a Starbucks or Bank of America window … first of all, they're giant corporations. You're not hurting them. If you wanna hurt them, boycott them. Second, all it means is that poor people have to clean up that window and put a new one in.
But I'm so glad that people are protesting all over, nonviolently. I'm going to the march tomorrow, and we went to a Save
Roe v. Wade
rally Sunday, a health care rally last night. The marches tomorrow are going to be extensive. I really think the numbers will be off the deep end. And that's the only thing that gets through to Trump.
I don't like this crappy leftie thing: "Oh, marches don't work." Yeah, they do. Look at Black Lives Matter. Look at Standing Rock. Look at the Vietnam War [protests]. The reason any of those things happened is because people marched.
SD: I suspect the turnout for the Women's March tomorrow will dwarf the numbers for Trump's inauguration.
GP: I think that's right. [
Editor's note: Yup. It did.
] But then the media will find a way to spin it like it never happened. Or Fox News will brand the protestors as unpatriotic. Please.
I get so tired of reading the story about disaffected white people and how they've been harped on. They have been. There are more poor white people than there are any other group. But their racism is not patriotism.
The other thing you're going to have to look for as a journalist is that they're gonna keep demonizing the press and saying that anyone who disagrees is an "internal enemy." Which is a real KGB way of phrasing things.
SD: I know this is an age-old question, but what is the role of comedy, of comedians, in Trump's America?
GP: I think we don't have anything else to do but to agitate, illustrate and advocate. And also to try to find the humor in all of this. Jokes still work. People still have a sense of humor about everything.
I had a couple people tweet me today that I should go back to comedy and stop having an opinion. To them I extend a generous invitation to take a long, cool drink out of my ass.
The idea that you can separate the artist from the art is bogus. You've elected a reality television star as president. So, the idea that entertainment should stay out of politics is done.
I'm going to continue to agitate. I never shut up about this stuff on my podcast. And I've changed the tack on the show to be more of a call to arms. He doesn't have ultimate power. He's not a dictator. We still do have some say in this.
As for the comics who don't want to participate — and I see they're mostly white men — I think they're making a terrible mistake. Because history doesn't look back kindly on collaborators. If you're not going to be a human being now, when are you going to be a human being? So, I would like to see the white guys step up a little bit more and be men, but, more importantly, people.
I don't want everyone to agree with me. The ones who are openly right wing … whatever. That's their choice. It's the ones who aren't openly right wing and are being quiet about this. That really fucks me off.