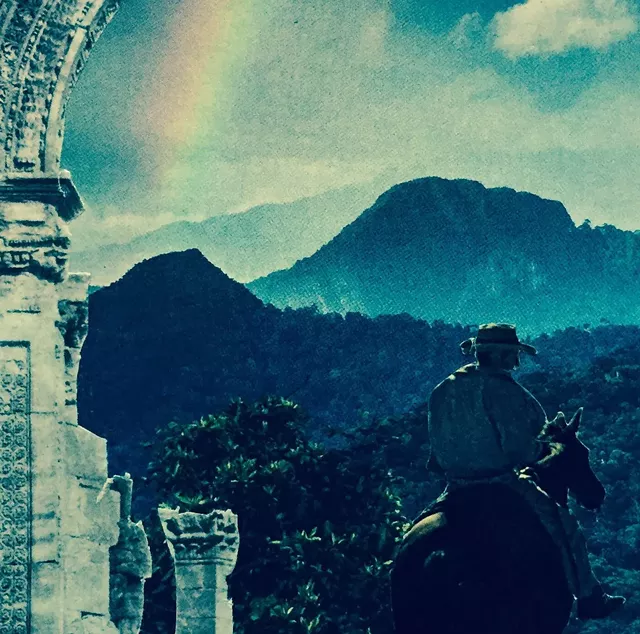 Elizabeth Jewett
'thoughts count', Chance McNiff
Hey, pals. Remember my
first post for the Live Culture blog
? I wrote about an obscure musical artifact from 2013 titled
Sequoiahedron,
by Brattleboro's
Chance McNiff
. In the post, I predicted that McNiff had some new sounds in his reserve and expressed the hope that 2017 would see them presented to the public. To my delight, just one week into the new year, McNiff sent me a Bandcamp link to a new collection of modular synth compositions. The collection, titled
thoughts count,
is a hypnotic exploration of vaguely psycho-tropical ambience and rhythm with minimalist execution.
thoughts count
opens with "lovely lizard." This track instantly reminded me of the soundtrack to a documentary I once saw about Marcahuasi, a plateau in Peru that is said to be a site of ancient worship. The plateau is scattered with curious rock formations resembling human faces and animals. Much like these formations, "lovely lizard" possesses the ability to challenge the listener's perspective. Recognizable pan flute samples and bass drum pulses morph into a trance-inducing experience that feels extraterrestrial.
The next track, "atlas'," rolls in with deep and thunderous tones. A coy and fairy-like synth voice bends pitch in and out in a conversational melody. Continuing this subtle theme of tonal communication, "one language" features filter-softened tribal rhythms and otherworldly arpeggios that dance through the drift of ambient fog.
These pieces are dense with unspoken ancient riddles. The psychedelic swirl of "the sacred loc-nar" is a reference to the 1981 animated film
Heavy Metal,
in which the
Loc-Nar
is portrayed as the physical manifestation of "the sum of all evils" in the form of an orb. When gazed into, the orb depicts its influence on societies throughout time and space. The ominous trudge of the piece feels like turning that mysterious underground wheel in the television series "Lost."
The title track unfurls as a calm conclusion to the collection. Warm synths swirl and ripple like water in the inter-dimensional pools that connect infinite realities as described in
The Magician's Nephew
by C.S. Lewis. The listener is left with a feeling of composure and peace, but also a lingering sense of existential crisis.
Download or stream
thoughts count
via Bandcamp.