It's Monday, which means it's time for your weekly dose of locavore levity: the Joke of the Week! This week's joke comes from Burlington's Hunter Congleton. Take it away, Hunter…
So, I have this friend who was addicted to taking selfies. She took so many selfies that she started feeling bad about herself. She's told me that she's stopped now. She's just completely out of selfie steam.

About that joke
Says Congleton: I don't actually know anybody that was addicted to taking selfies. But one day I thought about how I see some of my Facebook friends take lots of selfies and post them. I thought,
Don't they ever get tired of taking these?
And inspiration struck.
Meet the Comedian, Hunter Congleton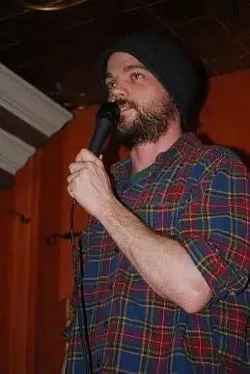 Courtesy of Hunter Congleton
Hunter Congleton
Hunter Congleton
holds a dark secret: He was born in Florida. But it's not his fault his dad wanted to be a navy helicopter pilot.
Congleton started doing comedy his senior year at the University of Vermont and did his first open mic at the now-defunct comedy club Levity in Burlington. He's a former cohost of the Half and Half Comedy show at the Half Lounge Speakeasy. Currently, he works in the kitchen of the Vermont Comedy Club.
Congleton has opened for Jon Fisch and Sam Morril — the latter during the 2016 Green Mountain Comedy Festival. He was also a semifinalist in the 2016 Vermont's Funniest Comedian competition. He's 29 years young and plays way too much Pokémon Go.

See Him Live
Catch Congleton at the Comedy & Crepes showcase on Monday, January 16, at the Skinny Pancake in Burlington.
Think you can do better?
We're always looking for jokes from local comedians. We publish one joke each week, and you can read through previous ones
here
.