Jeb Wallace-Brodeur
Artist August Burns speaks at the unveiling of Peter Shumlin's official portrait.
Many, many paintings go unnoticed, but some are marked to hang on institutional walls — or at least be protected in institutional archives — for all of foreseeable eternity. After delivering his farewell address yesterday, outgoing Democratic governor Peter Shumlin unveiled his new forever-in-history portrait amid Statehouse clamor. The painting by Middlesex classical realist
August Burns
depicts a pensive Shumlin, arms crossed and eyes down, against a deep, dark, layered background.
Some — including Statehouse curator David Schutz — quickly drew parallels between Burns' 28-by-40-inch oil and the official presidential portrait of John F. Kennedy. Aaron Shikler painted the latter in 1969, years after Kennedy's assassination.
"I have to admit that I was one of the first people to think of the JFK portrait when I first saw [Burns' portrait]," Schutz told
Seven Days
by phone.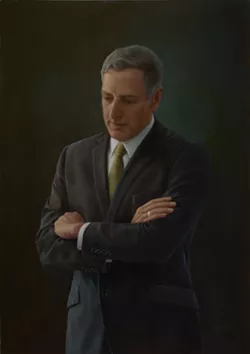 Martin Lavalee
Peter Shumlin by August Burns
According to the
New York Times
, Shikler told the
Washington Post
in 1971, "I painted [Kennedy] with his head bowed, not because I think of him as a martyr but because I wanted to show him as a president who was a thinker ... A thinking president is a rare thing."
(At least one Reddit thread speculates that Shikler did not want to paint the eyes of a dead man, but we'll leave that to the JFK scholars.)
Shikler's painting, Burns told
Seven Days
in a phone call, "certainly was one of our inspirations. That is one of my favorite portraits that I've ever seen done."
Other inspirations included figurative paintings by contemporary classical artist
Michael Klein
and "Portrait of a Lady Wearing a Black Dress" by Swiss painter Blanche Berthoud (1864-1938).
"It's not to mean that [Shumlin] is Kennedy," Burns said, "but that there's that universal space [of the] solitary nature of leadership." To be a political leader, Burns added, takes "thick skin and a lot of personal integrity, and that's what I wanted to convey in this painting."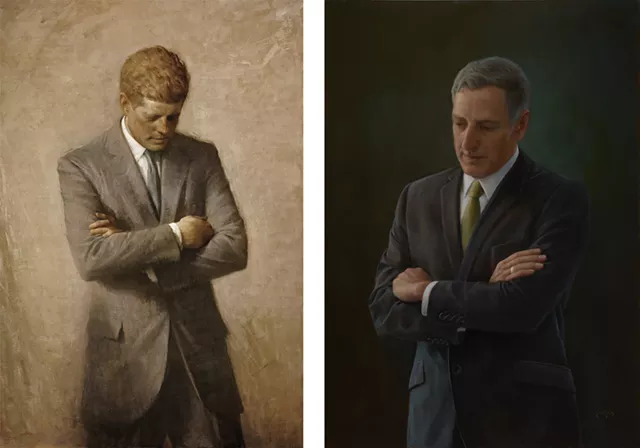 Left: "Oil Portrait of John F. Kennedy" by Aaron Shikler; right: Peter Shumlin by August Burns, photographed by Martin Lavalee
Shumlin and his wife, Katie Hunt, aided by Schutz, selected Burns from a host of portfolios under consideration. Hunt, who studied art and
exhibited her satirical thesis works
at the governor's office last year, "immediately had an affinity for August Burns," Schutz said. "[Gov. Shumlin] did, too, but I think it was in part because [of Hunt]." Schutz also suggested that the couple chose Burns for "the softness of her approach, [which is] a little more impressionistic, a little softer than some, stylistically."
Burns began her process last summer by interviewing Shumlin and Hunt, sharing her ideas and vision, most of which involved dramatic lighting. In July, Shumlin was subject of a photo shoot with Waitsfield photographer
Barrie Fisher
, who captured the governor in a variety of poses.
Burns completed a preliminary charcoal sketch from a photo of the governor standing in a doorway, but, she said, "After working on it for a number of weeks, I didn't feel it had the gravitas of the office that I felt it needed."
So she shifted gears, receiving approval from Shumlin to work from another image. The decision resulted in part from sessions with the governor, Burns said, "where I had the privilege of one-on-one conversations with no agenda — just conversations with another person." She also hoped to buck what she identifies as a "contemporary move towards less gravitas and more casual [representations]."
(Such casual portraits perhaps include what late
Seven Days
columnist Peter Freyne dubbed the "L.L. Dean" portrait, in which the former gov wears hiking boots and sits in a canoe. It was painted by Carroll Nathaniel Jones Jr. of Stowe.)
"I hope [Shikler's portrait] is seen as nothing more than an inspiration," Burns said. Schutz suggested that the similarity between the Shumlin and JFK portraits ends with the pose. "[Shumlin is] looking down, rather than directly out, as is the case with the majority of portraits," he said.
Shikler's portrait appears like a character study, with Kennedy's outline merging softly into a background of visible brush marks and motion. It suggests a fragility and momentariness appropriate to the president's early death.
Burns' dramatic rendition of Shumlin instead indicates the sturdy timelessness that is often associated with Renaissance portraiture. A faint glow appears around his head, a slight illumination against a background created through a layering process employed by the Old Masters. "If you look at the painting closely," Burns said, " you can see some of those underpainting colors moving through."
Interestingly, the angle captured by Burns — and presumably by Fisher's photographs — downplays Shumlin's prominent nose. His face appears maybe a bit rounder — softer — than in most press photos, which generally depict him in angular profile or else facing the camera head-on. Some have opined that it is not a close likeness.
Regardless of the political significance one imparts to Burns' work and the choices behind it, this painting is technically sophisticated and
serious
— and one that pleased its subject. Burns related that, upon completion, Shumlin "stepped back and said,
I love it, it's everything I would want.
"
Schutz corroborated: "I think the contemplative pose that Peter Shumlin is striking is not the Peter Shumlin that a lot of people are used to. It'll be interesting to see how it's interpreted as time goes on. I know that he loves it very, very much."