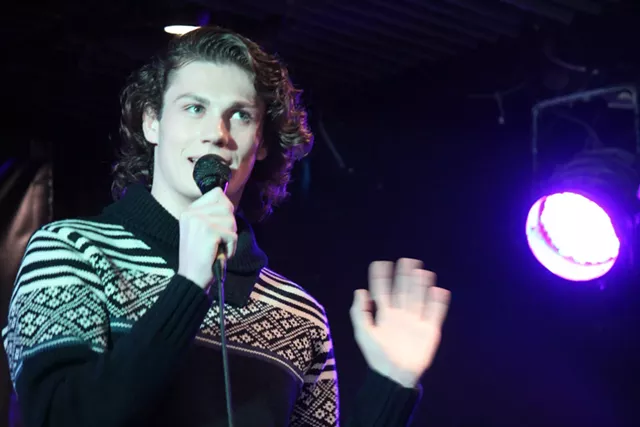 Courtesy of Kendall Farrell
Kendall Farrell
With the formal swearing at, er, in of President-elect Donald J. Trump a mere two weeks away, millions across the country and globe are nervously wondering,
What the eff do we do now?
Also,
Do I know any single Canadian citizens?


The uneasiness surrounding the impending inauguration crosses demographic boundaries. No one, even those who voted for him, can say with certainty what will happen next or how it will affect them. (Though the prevailing sentiment seems to be this:
Fuuuuck
.) That uncertainty is doubly potent for those whose job it is to observe and comment on the current political landscape. No, not journalists or pundits. We mean people with a far more important role: comedians.
Comedy has long been a source of light in the darkness. But is anything really funny about such an unfunny time? Find out tonight, Wednesday, January 4, when a new political comedy series called United We Stand Up debuts at the Vermont Comedy Club in Burlington.
Courtesy of Annie Russell
Annie Russell
The series is curated and hosted by local comics
Kendall Farrell
(winner, 2015 Vermont's Funniest Comedian contest) and
Annie Russell
(Vermont Public Radio, "No Chill Podcast With Annie Russell," Cringe! A Night of Hilarious Humiliation). Each edition of the politically themed series will feature a mix of local and national comedians. The inaugural installment includes locals
Tim Bridge
and Maggie Lenz, as well as Boston comics
Srilatha Rajamani
and
Shawn Carter
.
Additionally, each UWSU show will feature a guest from the local political sphere who will sit in for a Q&A session with the crowd. Up first is Lt. Gov.-elect
David Zuckerman
.
No word yet on how frequently the series will occur. But whether it's monthly, bimonthly or random, given the pedigree of folks involved, we expect a welcome dose of legislative levity.