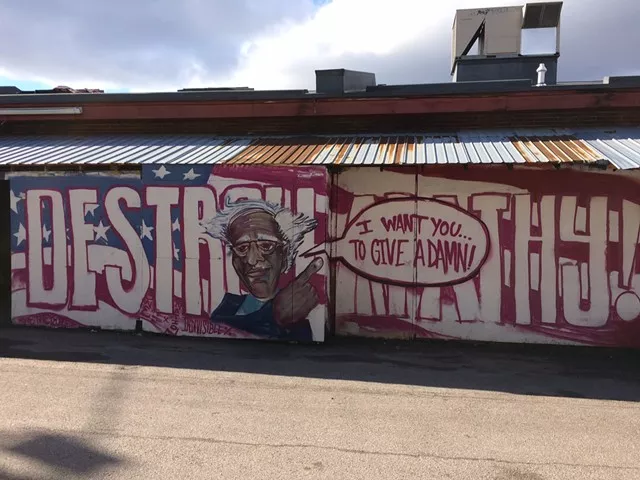 Courtesy of Anthill Collective
Anthill Collective's mural behind ArtsRiot in Burlington
Before we take a deep breath and dive into 2017, it seems a good time to look back on the year from which we are about to graduate: 2016. This is by no means a comprehensive list, but a sampling of events, exhibits and happenings in local arts and culture. It gives us one more chance to wax nostalgic on where we've been and what we wrote about over the past 12 months.
JANUARY
OK, this didn't happen in Vermont, but it's relevant. Remember when Sen. Bernie Sanders ran for president? As a reflection of his popularity, a Sanders-themed art show titled "
The Art of a Political Revolution
" — which included Vermont artists — launched in Los Angeles.
Vermont Shakespeare Company greeted the year by announcing a name change — to
Vermont Shakespeare Festiva
l
. The new moniker symbolized another step toward the nonprofit's dream of presenting a full-blown, well, Shakespeare festival. Meantime, the company went on to present several events throughout the year, including its timely production of
Julius Caesar
in the summer.
Courtesy of Carl Scofield
Rhonda and Her Recycling Robo-Octopus, Team Vermont's winning snow sculpture
FEBRUARY
Team Vermont took the gold at the
Budweiser International Snow Sculpture Championships
in Breckinridge, Colo.
The annual
Spice on Snow Festival
brought Cajun heat to frigid Montpelier in mid-February. Curated by Montpelier's Summit School of Traditional Music, the festival featured traditional folk and zydeco acts of both local and national renown.
Founding artistic director Jonathan Verge launched
Gatherwool Theatre Company
in White River Junction.
A Defiant Dude
, the documentary ostensibly about Eat More Kale guy Bo Muller-Moore and his long trademark feud with Chick-fil-A, hit another snag: a
disagreement
between Muller-Moore and filmmaker James Lantz about "framing" the story.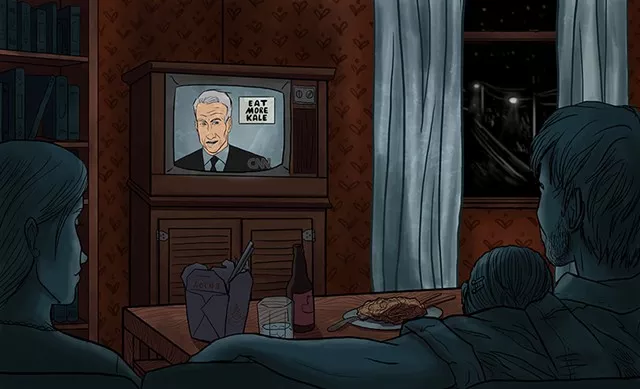 Emily Rhain Andrews
From 'A Defiant Dude' website

MARCH
Burlington City Arts announced a new
Community Fund
to support local arts initiatives.
Again, not in Vermont, but we must note that some brazen Vermont artists highjacked a stairwell in New York City's Whitney Museum for a
guerrilla exhibition
. Woo.
Spruce Peak Performing Arts Center in Stowe announced sculptor and Johnson State College assistant art prof Michael Zebrowski its
first-ever artist-in-residence
. Curated by Rachel Moore of Helen Day Art Center, Zebrowski's outdoor installation, "Survey," captured time-lapse images of the horizon that would later be shown indoors.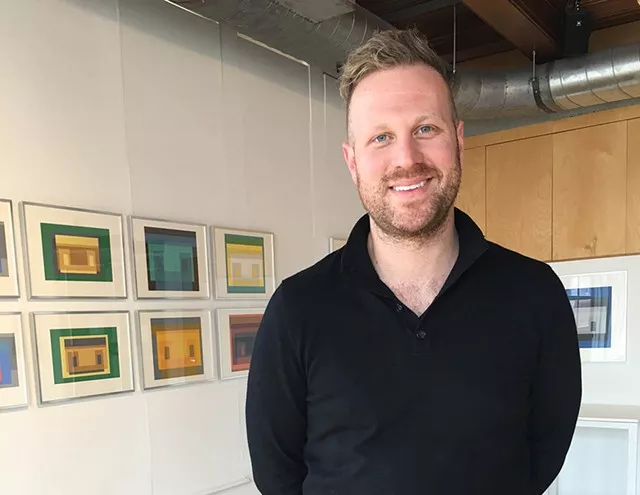 Pamela Polston
DJ Hellerman
BCA Center curator DJ Hellerman announced he was
departing
for a new position at the Everson Museum of Art in Syracuse, N.Y.
On March 26, local filmmaker Bill Simmon finally
premiered his long-delayed documentary on beloved 1990s Burlington rockers the Pants
.
High Water Mark: The Rise & Fall of the Pants
screened to a sold-out crowd at the Higher Ground Ballroom in South Burlington. Following the film, Pants front man Tom Lawson, backed by local rockers Swale, dusted off a number of Pants favorites. Several guests offered their own renditions of Pants tunes, including James Kochalka, Heloise Williams and Guster's Ryan Miller, among others.
The
Women's Film Festival
in Brattleboro celebrated its 25th anniversary.
APRIL
Vermont poet
Leland Kinsey released Galvanized
, his last volume of poetry.
Burlington graphic designer Lyn Severance, best known for her early work crafting the identity of Ben & Jerry's, received the
AIGA Vermont Design Fellow Award
.
The Burlington Writers Workshop
debuted a compilation
titled — what else? —
The Best of the Burlington Writers Workshop 2016
, and moved into new Main Street quarters.
University of Vermont professor and photographer
Bill McDowell released his new book
Ground: A Reprise of Photographs From the Farm Security Administration
. The images survey land and people during the Great Depression, and each engages in a "prolonged dialogue with a black dot."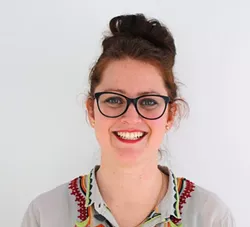 Courtesy of Burlington City Arts
Wylie Sofia Garcia
Burlington City Arts named Burlington artist
Wylie Sofia Garcia
the 2016 Barbara Smail Award winner.
Longtime musician Bobby Gosh of Brookfield released a candid
autobiography
,
Confessions of a Marijuana Eater: A Songwriter's Memoir
.
MAY
On the first weekend in May, Waking Windows 6 in downtown Winooski
kicked off Vermont's festival season in spectacular fashion
. The 2016 edition of the ultra-cool indie music festival was the largest and best attended yet, featuring the likes of YACHT, Speedy Ortiz, Hop Along on the outdoor main stage. Scads of local acts played at popup venues all over the city.
White River Junction's
Center for Cartoon Studies
celebrated its 10th anniversary with a block party.
In Stowe, Helen Day Art Center executive director Nathan Suter
stepped down
after nearly 10 years, and curator Rachel Moore moved in to that role.
In Waitsfield, adjacent to American Flatbread, owner George Schenk began
restoration on the farm barn
, in order to create a new and improved art gallery and event space.
Americans for the Arts named Burlington's Dealer.com one of the
10 Best Businesses Partnering With the Arts
in the U.S.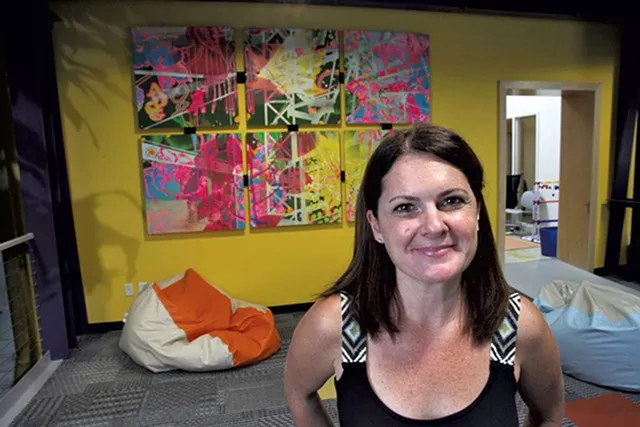 Matthew Thorsen
Jill Badolato of Dealer.com

JUNE
The
Lemon Fair Sculpture Park
, at the home of Frank and Elaine Ittleman, opened to the public in Shoreham.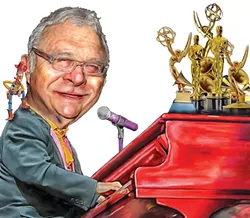 Kym Balthazar
Randy Newman
The 33rd annual Burlington Discover Jazz Festival had the city bopping and be-bopping — and even post-bopping — along for 10 steamy days in early June.
American songwriting icon Randy Newman
headed a list of great artists that also included Diane Schurr, Bela Fleck & the Flecktones, the Kenny Barron Trio and many others.
Following the death of former prizefighter and activist Muhammad Ali, California graffiti artist Jules Muck
immortalized him
in a mural on the side of Burlington's African Market.
Anaïs Mitchell's
Hadestown
was an off-Broadway hit.
Seven Days
headed to NYC to check it out, and wrote about the
making of the musical
.
Paul Heintz
Detail of "P-cock went hunting (peacock and buck)" by Katie Hunt
Katie Hunt, wife of outgoing Gov. Peter Shumlin, exhibited her
papier-mâché animals satirizing media
in the Governor's Gallery. Jezebel took note.
Filmmaker Nora Jacobson won the
Herb Lockwood prize
— at $10,000 the largest art award in Vermont, presented annually by the late artist's brother, Todd Lockwood, and his family.
JULY
Though it happened a few months later than usual, the
eighth annual Green Mountain Comedy Festival
in mid-July was a weeklong laugh riot, with shows all over Burlington and in Montpelier. Headliners included Emo Philips, Sean Donnelly, Liza Treger and Seaton Smith.
Seven Days
' "Feel the Bern"
adult coloring contest
attracted a number of entries from readers who like to color both inside and outside the lines.
Lots of local actors — with lots of fake blood — found temporary day jobs making it look real at a
disaster-preparedness drill
called Vigilant Guard. The federally funded exercise took place over nine days at 50 sites around the state with a cast of some 5,000..
Seven Days
associate editor Margot Harrison r
eleased her debut YA book
,
The Killer in Me
.
Frog Hollow Vermont Craft Gallery launched its new
Artisan Grant Program
. To kick off the initiative, the craft center partnered with the WaterWheel Foundation (the charitable organization of Phish) for a month-long exhibition of hand-printed flags by Burlington artist James Bellizia.
Courtesy Of Frog Hollow And The Waterwheel Foundation
Hand-printed flag by James Bellizia
AUGUST
Sophie Pickens and Justine Jackson open
Northern Daughters
gallery in Vergennes.
The Weston Playhouse broke ground on its
state-of-the-art theater compound
, to be called Center for the Arts at Walker Farm, in Weston Village.
James O'Hanlon
bought the Savoy Theater
in Montpelier from Terrence Youk. The projectionist-turned-owner said he envisioned expanding the art house's programming with niche film nights, repertory screenings and showing Vermont filmmakers.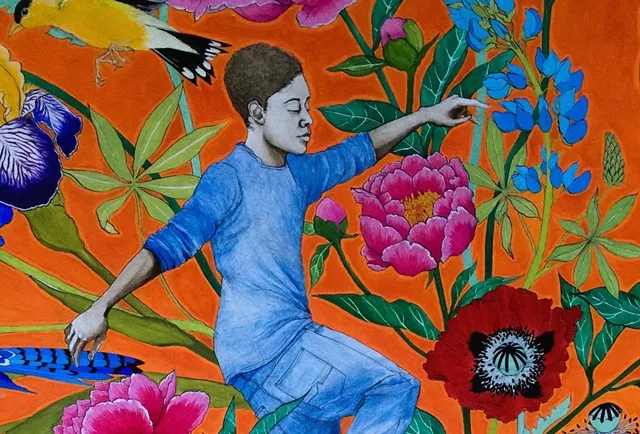 Courtesy of Jozie Furchgott Sourdiffe
Detail of A-Dog mural for skatepark
Jozie Furchgott Sourdiffe
unveiled her mural
in memory of her former partner Andy "A-Dog" Williams at Burlington's skatepark, which is named for the late DJ, artist and skateboarder.
Jericho muralist Mary Lacy, who made her mark on Burlington with public works around downtown, announced her
10-city mural-painting tour
across the U.S.
Courtesy of Artistree
Jarvis Antonio Green
New theater company
JAG Productions
launched, in partnership with ArtisTree of South Pomfret. Founding artistic director Jarvis Antonio Green said he means to produce "bold theater that reflects the times."

SEPTEMBER
Grand Isle photographer and director of Burlington City Arts' Community Darkroom Mary Zompetti began
photo documentation of the nooks and crannies of Memorial Auditorium
, sharing the images on Instagram, in advance of BCA's departure from the aging building.
On September 4, local psych-pop phenoms Madaila closed down Main Street in Burlington for an
all-day mini-festival, Madaila on Main
. The show, which included performances at Nectar's and Club Metronome, featured the likes of Arc Iris, Lady Lamb, Marco Benevento and others.
Courtesy of Luke Awtry, @lukeawtryphotography
Madaila at Madaila on Main
The 24th annual
South End Art Hop
in Burlington was bigger and better than ever. We wrote about the people behind it and how it all comes together.
Glassblowers huffed and puffed at the Bern Gallery's
Pipe Classic 10
in Burlington.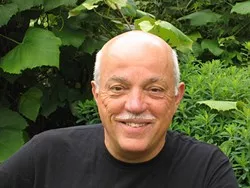 Courtesy of Lois Eby
David Budbill
Vermont poet Leland Kinsey died on September 14, and poet/playwright/musician
David Budbill
died on September 25.
In mid-September,
Grace Potter again hosted her annual Grand Point North festival
on the Burlington Waterfront. Joining the homegrown pop star this year were, among others, Kaleo, Guster, Blind Pilot, Old Crow Medicine Show and several local acts.
Courtesy of Ben Hudson, benhudsonphotography.com
Grace Potter at Grand Point North
Burlington cartoonist Harry Bliss
purchased the former J.D. Salinger
home in New Hampshire and established a monthlong residency program with the Center for Cartoon Studies.
Poet and University of Vermont professor Major Jackson won the
Vermont Book Award
, granted by the Vermont College of Fine Arts, for his recent collection
Roll Deep
.
Middlesex artist
August Burns
was selected to paint Gov. Peter Shumlin's official portrait.
OCTOBER
Pamela Polston
Heather Ferrell
Heather Ferrell came on board as the
new curator
and exhibitions director of the BCA Center in Burlington.
After a year's hiatus, the
Burlington Fringe Festival
made a triumphant comeback at Off Center for the Dramatic Arts for four nights of fringy-ness.
Vermont native Sophie Bréchu-West returns home after a stint in New York City to establish an independent art curatorial and consulting enterprise called
571 Projects
.
Vermont artist dug Nap
released an autobiographical art book
titled
Artsy Fartsy
.
NOVEMBER
Vermont cartoonist Alison Bechdel created a special post-election edition of her former comic strip "
Dykes to Watch Out For
." It was published in
Seven Days
along with her election-themed Thanksgiving cover.
Saxtons River painter Eric Aho received the
Governor's Award
for Excellence in the Arts.
Arlington-area locals were treated to a staged concert of
Perfect Picture
, a musical about the life of Norman Rockwell, in
an old former grist mill.
With the inaugural performance, owner Dr. Joshua Sherman announced his plans to turn the mill into an arts center.
Flying Pig Bookstore in Shelburne celebrated its
20th anniversary
.
Courtesy of the Author
Jacqueline Woodson
For its 2017 iteration of
Vermont Reads
, the Vermont Humanities Council selected
Brown Girl Dreaming
by Jacqueline Woodson.

DECEMBER
On December 3, beloved punk-rock haven
242 Main hosted its final show
. The closing of Memorial Auditorium, the building that houses 242, ended the venue's 30-year run as the oldest all-ages punk club in the country.
The closure of Memorial also necessitated the exit of
BCA's print and clay studios
, as well as administrative offices, and the maker space Generator. Both found new homes in the city's South End.
On December 17, the
Monkey House celebrated 10 years
under owner Ryan Smith, during which time the Winooski night club has become a hotspot for hip, underground music. The bash featured 10 hours of music from a slew of locals including Swale, Blue Button, Paper Castles and others.