It's Monday, which means it's time for your weekly dose of locavore levity: the Joke of the Week! This week's joke comes from Essex Junction's Joe Gingras. Take it away, Joe…
I read recently that flossing isn't really that important after all. I'm so mad at my dentist, because I'll never get back those five minutes of my life I spent lying to him about doing it.
About that joke
Says Gingras: I actually do floss every day, but I hate it and am bad at it. I have a conversation about flossing every time I go to the dentist, to my dismay. So I would say I've been working on this joke my whole life.
Meet the Comedian, Joe Gingras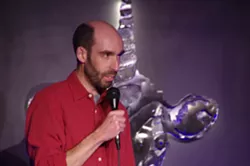 Courtesy of Joe Gingras
Joe Gingras
Joe Gingras
is the former co-host of Half & Half Comedy at Half Lounge. He has performed with Emo Philips, Louis Ramey, DeAnne Smith and Kenny Zimlinghaus. Gingras was a finalist in the 2015 Vermont's Funniest Comedian Contest. He performs throughout New England and in NYC.

See Him Live
Gingras doesn't have any immediately scheduled shows, but performs often around Burlington.
Think you can do better?
We're always looking for jokes from local comedians. We publish one joke each week, and you can read through previous ones
here
.