It's Monday, which means it's time for your weekly dose of locavore levity: the Joke of the Week! This week's joke comes from Lyndonville's Caleb Teske. Take it away, Caleb…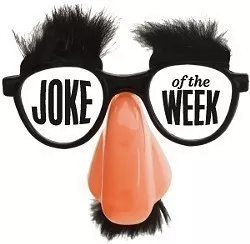 This girl said to me the other day, "I don't know what to tell ya." Then she kept talking.

Make up your mind, lady!

About that joke
Says Teske: I'm not even sure if this counts as a joke. But I thought it was hilarious.
Meet the Comedian, Caleb Teske
Caleb Teske
is a comic straight off the mean streets of Lyndonville, Vt. He performs in shows across the state and hosts two showcase comedy shows in St. Johnsbury — at the Kingdom Taproom and Catamount Arts. He recently joined the Socially Irresponsible sketch comedy troupe and performs alongside some of the best comics in Vermont. Teske also hosts a podcast called
Better Left Unsaid
.

See Him Live
Teske performs at the TNT Comedy Night at Twiggs — An American Gastropub in St. Albans on Thursday, January 19.
Think you can do better?
We're always looking for jokes from local comedians. We publish one joke each week, and you can read through previous ones
here
.