Courtesy of Public Works Press
"Radial" by Clark Derbes
For the second year,
Public Works Press
is offering a different spin on a traditional Community Supported Agriculture program: an
Art CSA
. Buyers pay a lump sum for a half or whole year and, in return, receive a series of handmade, 11-by-14-inch prints by area artists.
Noah Lagle, the South End printmaker behind
Public Works Press
, is tweaking the production slightly for 2017. The roster includes 12 artists, just like last year. But, instead of dispensing one print a month, Lagle is offering quarterly shares of three prints each for $240. Buyers can also opt for a half share — six prints for $150.
By switching up the format, Lagle, 26, says he was able to reduce costs from last year — shipping four times a year instead of 12 definitely helps. In addition, "I think it will lead to stronger work because of the longer development time," he says.
Lagle graduated from the University of Vermont in 2013 and now works in the woodshop and printmaking studios at the university; he'll be a part-time printshop lecturer next semester. Lagle says many of the artists in this year's CSA iteration are UVM professors with whom he has studied or whose work he has admired, as well as South End artists he's met while working at Pine Street Studios.
Courtesy of Public Works Press
"I Was Just Thinking That" by Jordan Redell
Some are artists Lagle connected with through a steamroller printmaking event he held in October in the garage bay of his studio. (Lagle was awarded money for the project through the
Burlington City Arts Community Fund
.)
He's still working on adding two more names to this year's list, which so far includes Jane Kent, Steve Budington, Monika Rivard, Katie Loesel, Sarah Letteney, Andrew Frost, Mildred Beltre, Elliott Katz, Mary Aveno and Nadia Westcott.
The artists' résumés are varied. Kent, a UVM professor and New York artist, has published multiple art books and has been widely exhibited, and her work is in the Whitney Museum of American Art and the Brooklyn Museum, among others. On the other end of the spectrum, Rivard, a talented Vermont photographer, has just curated her very first exhibition, at New City Galerie in downtown Burlington.
Sadie Williams
Noah Lagle
What remains consistent is the caliber of artist Lagle has selected, regardless of experience. This a carefully curated bunch, and the prices are affordable: $20 per print (or $25 with the half share). Ten of the 25 shares are still available.
"I'm excited to see what Public Works Press grows into," Lagle says. If it could be a platform for offering printmaking workshops in the future, he adds, that would make him happy.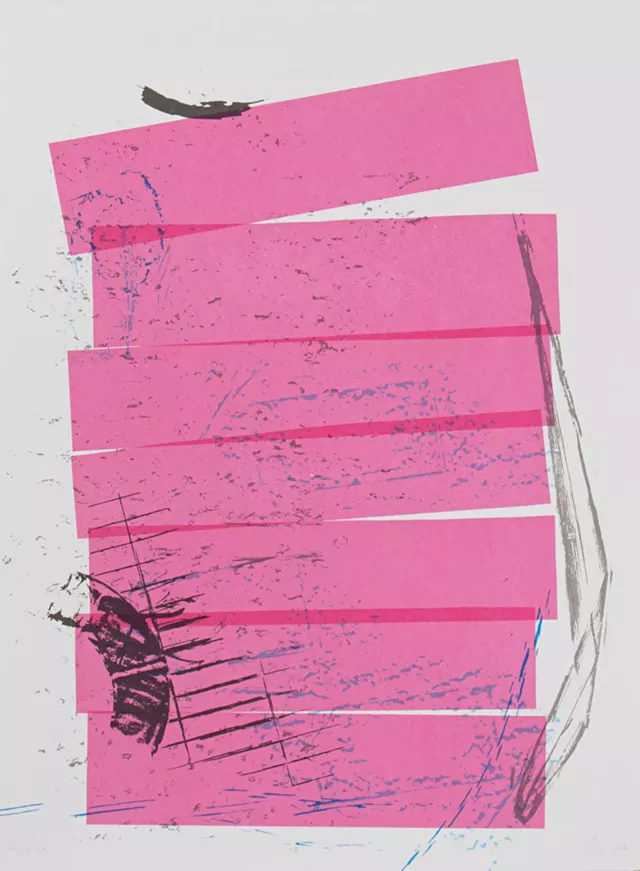 Courtesy of Public Works Press
"Curtis" by Jasmine Parsia