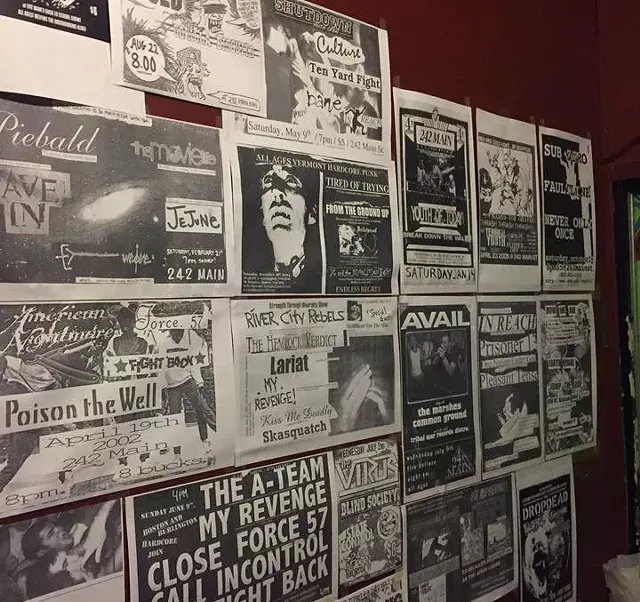 242 Main
An archive of past flyers hang on the walls of 242 for its farewell show.
Hello again, friends! It is my duty in this column to reflect and project about local music, and I certainly have a lot to write about this week. My recent thoughts concern the end of Burlington's iconic all-ages venue,
242 Main
.
Since the public announcement that Memorial Auditorium — the building that houses 242 — would be closing due to structural issues, the local music community has been mourning the loss of what was once a sanctuary for the
Northeastern punk movement
. As I monitored the reactions to the club's terminal diagnosis, I began to reflect on my own time spent at the venue as a teenager growing up in Burlington. I noticed something was missing in the historical narrative of the space: The experiences of the young women who bravely navigated the overwhelmingly male-dominated culture that thrived behind 242 Main's doors.
Last year,
Seven Days
music editor Dan Bolles wrote an
in-depth piece
about the history of 242 Main in honor of its 30th anniversary. Detailed in the article are the central roles of two women, Jane Sanders and Kathy Lawrence, in the creation of the youth center. Despite this matriarchal guidance, the photos and flyers chronicling the culture at the venue make it difficult to ignore the fact that the demographic represented is almost completely male.
To further investigate this imbalance, I took a look at the lineup of bands slated to play 242's
last show ever
this Saturday, December 3. Please correct me if I am wrong, but it appears that there is not a single female musician in the bunch — and if there is, she is a needle in a haystack. Even a look into the
archives
of the old
Big Heavy World
forum, the message board that fueled and organized the 242 scene in the early 2000s, depicts a community dominated by male perspective.
Recently, I spoke to my best friend about 242's demise and the times we pulled on vintage t-shirts to go see acts such as the River City Rebels. While the conversation started off as a light and fond reflection on our awkward adolescence, it quickly changed tracks with a twinge of resentment. My bestie recalled that the worst verbal bullying she had ever endured took place at 242. I was pained to share that many of my memories involved harassment as well. I had a feeling we weren't alone in our experiences. I remembered a number of other young women that felt unsafe and unwelcome at 242, a venue that, on the surface, seemed safe and supportive.
I reached out through my social network to gather experiences from other women who grew up attending events at 242 for comparison. The feedback I received confirmed what I suspected: that there was a side of 242's story that wasn't being told. I'm sharing their statements in raw form, so their honest perspective has a chance to make the record.
One friend described her memories of 242 Main as, "getting hit on by 20 year old dudes and band members, not just random sleazebags, who I thought were super hot until I looked back and realized they were doing it towards a 14/15 year-old girl who did NOT look old for her age."
Another friend messaged me with the following statement.
"I've been thinking about it a lot lately (mostly because it keeps being brought up by my male friends who are excited about the last show). And one night I was sick of hearing about it and was like, 'God that place can burn to the ground for all I care.' And everyone looked at me like I had three heads (or completely ignored me) and I feel like that's a pretty good representation of how females have always been treated in the Burlington music scene and specifically at 242. I never felt like I was being taken seriously there, ya know? And it hasn't ever felt like a safe space or an accepting space. It's just another "boys club" type situation. So in my opinion, good riddance. All the over-30s dudes will have to go find somewhere else to mingle with girls way out of their league and age range and hopefully they won't have an easy time of it."
Jasmine Parsia is a longtime employee of Higher Ground, and a well-known creative. I was lucky to become friends with Parsia because of our mutual time at 242. This is how she remembers the venue:
"I started going to shows at 242 when I was 14 or 15 and I went to every show I could — anything to get out of my usual circle and check out something new.

"242 became a space to meet people outside of school, people I felt I could connect with and share interests. As a teenager, I often felt like an outsider. I always had trouble truly connecting, particularly with the other girls in my small suburban high school. But at 242 I met a few like-minded ladies that were also interested in digging around for new music or checking out a band on a Tuesday night with five other people in the crowd.

"Though I'd be leaving a huge part of the narrative out if I said that it was all rainbows. There was another side of 242 that became increasingly aggressive, alienating and, frankly, not safe at times. There was an ever-looming feeling that girls, particularly young girls, weren't welcome — this sentiment that if you weren't OK with being pushed around at a hardcore show or hit on, then maybe you should just get lost. It certainly wasn't the ethos of all the guys at 242 — I met some of my most caring male friends there. But it was increasingly the most prevalent.

"I stopped going after a while because it became the opposite of why I treasured it. I went on to work at another venue in town for a handful of years, partly inspired by my times spent at 242, I wanted to be a small hand in fostering curiosity and connection in the music scene, for everyone."
Ashley Melander, co-founder of
Beautiful Music CDs
, chimes in on forging female friendships at the venue.
"I started high school as a pretty square kid who envied the punk girls I met in band class. I was invited by them to see shows there that now sound embarrassing, but which were at the time a big jumping off point. A Big D and the Kids Table show actually led me to some of my best life-long female relationships, and a real life interest live music. Ariel Bolles, who was a horn player in a high school ska band called the Bazookas in the late nineties and Ann Grover who played bass in Freezerburn (who opened for Fugazi that time) blew my whole world upside down, and our relationships would have never solidified without that place. So, even as I look back at some time wasted time hanging out with drunk bro-ish dudes in those bands, it still holds such a soft soft in my heart as a place where I could cut loose from expectations and make some serious connections."
My own experience with 242 Main was a frustrating combination of simultaneously awakening to the freedom of counter-culture and the confines of sexism, all while listening to an anti-establishment soundtrack.
It was the first place I worked door admission and the first place I got punched in the face for being in the way of male aggression. It was the first place I felt empowered to participate in a community and the first place that inspired me to advocate for my sisters to feel safe and included.
Despite the difficulty with navigating around the social obstacles of the venue, I found myself there at least one night a week for most of my teen years. And for the record, many of the men that emerged from 242 Main became damn good role models. However, we can't continue to ignore that fact that young women often don't get to experience the same comforts as young men, even in spaces many see as positively constructive.
So thank you, 242 Main, for all the life lessons. Here's to a future of building inclusivity and equality for all participants in the Burlington music scene.

[Editor's note: Ariel Bolles is the sister of Seven Days music editor Dan Bolles.]