Courtesy of Avi Salloway
Standing Rock, November 24, 2016
Recently, some 40 Vermonters and New Englanders, many affiliated with the local grassroots environmental advocacy organization
350 Vermont
, traveled to the
Standing Rock Sioux Reservation
in North Dakota to join the ongoing protests there against the Dakota Access Pipeline.
If completed as presently planned, the 1,172-mile DAPL
would cross beneath the Missouri River and nearby Lake Oahe
just north of Standing Rock, putting the reservation's only water source in jeopardy of contamination. Pipeline construction has already encroached into unceded Sioux territory, which was granted to the tribe in 1851 under the Treaty of Ft. Laramie. In the process, Energy Transfer Partners, the oil company building the DAPL, has
bulldozed several sacred or historic Sioux sites, including burial grounds
.
The resistance at at Standing Rock, led by the Sioux tribe, began in April and has grown from about 20 people to
more than 1,000 over the summer
. Presently the number of "water protectors" — that's the preferred term, rather than protestors — are, by some estimates, more than 10,000.
Authorities, including the
Morton County's Sheriff's Department
and militarized police and National Guard units from several surrounding states, have increasingly met the DAPL resistance with force, including
firing rubber bullets
and
concussion grenades
at protectors, journalists and medics. Recently, police turned to high-powered water cannons to
drench protectors in sub-freezing temperatures
.
On Monday, November 28, the Army Corps of Engineers
ordered the eviction of protectors
at Oceti Sakowin camp, the largest of Standing Rock's anti-DAPL encampments, by December 5. Meanwhile,
thousands of American veterans are set to arrive at Standing Rock
to join in peaceful resistance on December 4.
The Vermont contingent to Standing Rock arrived on November 20 and spent six days at Oceti Sakowin. Among these was musician and Burlington expat Avi Salloway. He's a University of Vermont graduate and formerly one half of noted local folk duo
Avi & Celia
— later reimagined as the Boston rock band
Hey Mama
. More recently, Salloway has toured with Tuareg guitarist
Bombino
, and worked as an ambassador with
Heartbeat
, a nonprofit organization that works to bridge cultural divides in Israel and Palestine through music.
On Friday, December 2, Salloway and his current band,
Billy Wylder
, play a benefit show for 350 Vermont at ArtsRiot in Burlington, with local songwriter
Bow Thayer
. The show will include reports from 350VT members who were at Standing Rock.
Seven Days
recently spoke with Salloway by phone from his home in Cambridge, Mass. We asked him about his experience at Standing Rock, what life is like at the camp and how those who can't travel there can get involved.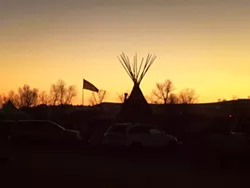 Avi Salloway
Dusk at Oceti Sakowin
SEVEN DAYS: Wide-angle view: What was your experience at Standing Rock like?
AVI SALLOWAY: It was a deeply moving and transcendent experience. It felt like a blessing to be a part of it. Some of us were engaged in building projects, trying to winterize the camp. Others were helping in various other capacities — in the kitchens or participating in direct action, participating in the learning experience of decolonization and what it means to become an indigenous ally as a settler.
So, the experience for me was transformative. You can just imagine the soul power of 300-plus tribal nations coming together in one place bringing all their history and their prayer to this greater existence, led by indigenous prayer, with 10,000 allies from around the world. It was a learning experience for me to experience and participate in the inseparable connection of prayer, tradition and resistance. They really are one in the same. And learning how to step back and step up.
SD: How does the camp operate?
AS: The fundamental pillars of the camp are, one, it is indigenous-led. Two, remain in prayer. Three, build a new legacy. And four, bring it back home.
I think most of us coming in were learning what it means to be an ally, how to take up the least amount of space possible and give the most amount of support. It was really well organized in a nontraditional, noncolonial way. The levels of leadership are really spread out and egalitarian and really give voice to women leaders, both young and old, and with deep respect to the elder population. At the same time, who is really calling the shots is ambiguous. I think their politics and government [are] far different than how American colonized politics work. And that was fascinating to experience.
Courtesy of Avi Salloway
Oceti Sakowin Camp
SD: In reading accounts from others who have been there, it seems one of the most helpful things outsiders can do at Standing Rock is, to quote a friend who is there, "Shut the fuck up." Was that your experience?
AS: Totally. Really, it's finding your place through being quiet and listening. If you have a question, maybe you sit with that for a minute. It's probably been asked already. Really trying to be aware of the space you take up, physically and verbally, spiritually. If you think about the greater mission, it is building this deep prayer through action and holding the ground. The amount of energy it takes to bring in allies ultimately [shouldn't] detract from the greater mission. It might take away from what the goal is, which is creating that spirit and deep resistance. So how do we play into that?
Obviously, there is a big learning curve for people who are just coming into a reservation for the first time. And, yes, that was very much the case: Step back before stepping up. But don't go away, we need you.
SD: What is the mood of the camp?
AS: Two things. The camp has evolved and changed a lot. In August there were 500 people there. Now there are well over 10,000 people. Originally, the majority were native people. And it was told to me by some elders that when a new tribe would show up to come join the prayer and resistance, all of the camp would go to that sacred fire entrance point and embrace them. Now there are are well over 10,000 people. The majority, I would say, is probably not indigenous, which probably changes the chemistry of the camp.
So, one thing I learned as I studied to go there is that there is a big movement to decolonize and educate the people who are coming and teach them to bring that back home. Obviously, that means physically decolonizing. But also your own decolonization of the mind, relearning and recentering indigenous thoughts and ideas.
Along with that is really trying to be OK with discomfort. We're talking about some serious issues here and social relationships with different people, whether they're settlers or indigenous people. It's OK to feel discomfort. In fact, that is a natural feeling. So, there is a deep spirit at the camp of hope and faith. At the same time there is an evolving population and demographic. So how that affects that undercurrent of spirit. There are feelings of discomfort and questioning and learning and relearning. It's a really multilayered feeling around the camp.
I think so many people are coming there with great intention. But, as it was taught to me, impact is more important than intention. How you're actually impacting the camp and impacting the prayer and impacting the resistance to ultimately stop the pipeline is more important than, "Oh, I'm coming here out of good will as white person with privilege."
SD: You've spent time in a number of tumultuous places all over the world. How does the Standing Rock experience compare?
AS: I've been thinking about that. I've been in places that have been colonized and occupied in the Middle East and in North Africa, West Africa. And there are many common themes of colonization that I've found overlap in this oppressor/oppressed dynamic. And in the face of that there can be this beautiful energy and creativity that comes on the side of the defenders. And that's something I've felt in all these places.
I've been fortunate to be in these deep pockets of creative resistance. My experience with Heartbeat is a prime example of that. My experience with Bombino and getting to visit his people in the Sahara. The music of the Tuareg is prayer and resistance and the voice of culture in the face of furious militarized aggression. And it's the same thing coming back to Standing Rock.
There is beauty in the face of darkness and struggle and it is the most life-affirming feeling you could ever imagine. And I take that with me through all the experiences I've had. It's infused into my soul, trying to carry that sacred fire, which is a physical thing at Standing Rock. But it's really a conceptual and emotional and spiritual practice. And I like to think that it's coming into my own music and my own creativity, whether it's in direct relation to these different movements or not. It becomes a part of who I am.
SD: The Army Corps of Engineers issued an eviction notice to Oceti Sakowin. Do you have a sense of how that has affected the spirit of the camp?
AS: I think the spirit of the camp is only growing stronger. There is all this pressure from the Army Corps and the Morton County Sheriff's Department and these militarized police. And that's influencing outsiders into wondering what's going on and what the fate of the camp is. But the reality is that indigenous resistance and prayer has been going on for over 500 years in this territory and our continent. That there was an issue from the Army Corps that they're going to evict people doesn't change the game at all.
This is not new news
.
There is really a call to get more people on the ground and not be fearful to come with prayer and hope and really show up and step back. We're encouraging all of our networks to support in whatever way they can, whether going in on the ground or supporting the building initiatives, supporting the legal defense fund. This concert on Friday, we're going to be connecting our experience at Standing Rock. Bringing it back home is one of the pillars of the camp. So, we'll have maybe a short video or slide show as part of the concert.
Courtesy of Avi Salloway
Avi Salloway at Standing Rock
SD: What are the best ways for those who can't go to Standing Rock to get involved and lend support?
AS: What I learned is the power of prayer. I know this is something that is hard to grasp for people, especially with no native background or connection to faith or a higher power. And it really can be internalized in your own way. Just keeping that spirit of Standing Rock in your own consciousness is, first and foremost, the call to action.
Second would be
donating to Oceti Sakowin camp
. That really is the best way to send your financial support. Through that the tribal leadership of the camp is spreading those resources to where they see fit.
SD: What about more localized action?
AS: Learn about the indigenous people in your region. All of this land has become occupied and colonized. Who was here before you? What is your own personal history in how you got to this land you're on?
Second, try to meet those people. Learn about who they are and how you can support them. This is much bigger than Standing Rock and this one pipeline. Obviously, for those who care about the Earth, clean water, the preservation of the planet and indigenous sovereignty, we have to shut it down. But really, it's much bigger than that. Reconnecting with those who came before us and learning about their struggle and how we can plug in to supporting them.
Courtesy of Avi Salloway
Oceti Sakowin Camp, November 24, 2016
SD: Beyond protesting, beyond prayer and resistance, what are the tangible means to stopping the pipeline?
AS: As colonizers, the mindset we've been brought up in is very goal-oriented. The immediate goal is shutting down the pipeline and building the sovereignty of the indigenous people in the same breath. So, what are the means to do that?
This is just my personal perspective, I don't speak for anybody else. But I think that the majority of the American public doesn't really know the story of what's going on at Standing Rock. And I think that's a failure of the big media outlets who have been blacked out on this story, which is really horrible. I think until this week it really wasn't on the radar.
If you look at the occupation in Oregon last year, every major news outlet was covering that for a month. A few people occupying land in Oregon. People have been camped out in Standing Rock since April. It's the most photo-brilliant opportunity for journalists to cover. The story is one of the deepest stories going on with the volume of tribal nations and allies around the world, millions of people supporting it. So we need to get the story across in mass media.
I read a
New York Times
article about the eviction driving back. Some would say the
New York Times
is a left-ish paper. But they really missed the story, making it ambiguous [about] who is causing the violence and the stability and safety of the camp. This is a congregation of hundreds of indigenous tribes and thousands of allies, acting in peaceful resistance to this oil engine that will fight at all cost to maintain profit, including militarized force.
If we get a critical consciousness over a critical mass of people in this country, we will push our legislators to stand up for the people who voted for them and stop the pipeline for our indigenous brothers and sisters and really force Obama to make the final call to put an end to this.