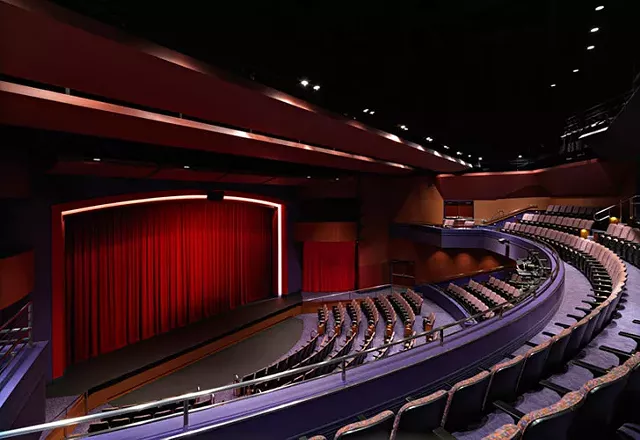 City of Rancho Cucamonga, Calif.
The Lewis Family Playhouse in Rancho Cucamonga is a model for the arts center being considered by South Burlington
In late October, four focus groups convened to discuss the future of the arts in South Burlington, specifically the creation of the
South Burlington City Center for the Arts
. The conversations, led by theater consultant
Don Hirsch
, were all hypothetical — asking attendees to visualize what such a center might do, who it would serve, and how it would benefit the community. Thirty five people attended, not all of them South Burlington residents.
The interest comes on the heels of the city's push to develop an actual downtown center. As the first step toward that end, residents passed a bond for the redevelopment of Market Street and the development of a park.
A city arts center is still a long way off, but a group of advocates has already formed a nonprofit — the South Burlington City Center for the Arts — to push the idea along until it has the money, and community backing, to grow legs. Tim Barden, managing director of Spotlight Vermont dance studio and a photographer,
is
currently serving as board chair and executive director of the new group.
Barden says that the organization is attempting to expand its board. He also sits on the board of the South Burlington City Center Collaborative, a nonprofit group that supports the redevelopment of the city center.
While the idea of a future arts center incubates, however, residents can consider the
focus group
results. Sessions centered on four questions, which elicited alternately optimistic and pessimistic answers. And, given the embryonic state of the project, they are vague.
Some participants' answers indicate dissatisfaction with the city's current "identity," whatever that may be. One response the to the question of what such a center might do for the community: "It would help create a different identity than what is already in South Burlington. Something that isn't box stores or a strip mall. A different reason to come to the city."
Alternately, when talking about "achievability," someone questioned whether "it [would be] compatible with the identity we already have in SB." Frequently mentioned was the need to attract millennials and younger community members rather than "old geezers."
Speculation on what the arts center might be used for generated varied opinions, as well: musical and dramatic theater, comedy, film, a makerspace, poetry readings, yoga and dance studios, a sculpture garden, recording studio, art gallery, conference space, and more.
But the arts-center project will remain a pipe dream until its advocates complete a feasibility study and formulate a budget.
"The focus groups were a great first step in providing South Burlington with information needed to decide whether a creative arts facility and programs could be a viable and productive addition to City Center," says Barden. "These results reinforce our conviction that such a project is compelling and is worthy of further study."
Meantime, the City of South Burlington is going ahead with a request for qualifications for a permanent, site-specific piece of public art for Market Street. Last year, the city formed a Public Art Selection Committee to oversee the selection process. The budget for that project is $46,000, according to a call to artists submitted on November 18 by Ilona Blanchard, project director in the city manager's office. This will be the first artwork commissioned and selected through the new committee.