It's Monday, which means it's time for your weekly dose of locavore levity: the Joke of the Week! This week's joke comes from South Montpelier's Sky Sandoval. Take it away, Sky …
So, my name is Sky. I have two half-sisters, and my half-sisters' names are: Star … and Jennifer.
It's an interesting choice on my dad's part naming us Sky, Star and Jennifer. It makes me wonder what he'd be like if he were in charge of other things using that logic. I always like to imagine what it'd be like if he booked a music festival.
"Oh, it's gonna be a killer show, bro. We've got Phish coming, the Dead is on the bill, the Spice Girls.
"And, you gotta check out the clothing vendors, bro. They're gonna have everything: sarongs, hemp anklets, hot pink scrunchies.
"And, by the way, if you need some 'stuff,' come directly to me. I'm gonna be bringing hash, shrooms … Tylenol PMs."
About that joke
Says Sandoval: I like how this joke presupposes my dad is savvy enough to get three major bands back together but he still winds up the dude selling drugs at the show.
Meet the Comedian, Sky Sandoval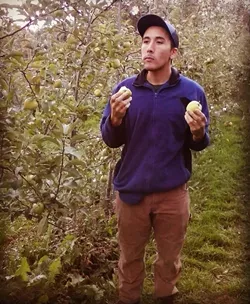 Courtesy of Sky Sandoval
Sky Sandoval
Sky Sandoval
is a comedian and musician. He once released an album with a friend wherein in they sang songs about things like citrus fruit and not wearing pants. Born in New Mexico but raised in Vermont, Sky enjoys stepping on crunchy leaves in the fall, memorizing useless trivia and annoying his girlfriend with nonsense.

See Him Live
Sandoval hosts the What a Joke! comedy open mic at the Vermont Comedy Club in Burlington on Wednesday, November 30.
Think you can do better?
We're always looking for jokes from local comedians. We publish one joke each week, and you can read through previous ones
here
.