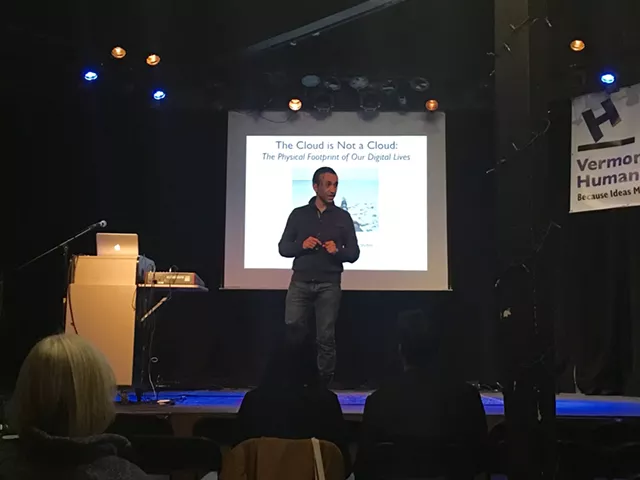 Sadie Wiliams
Brian Murphy
On Tuesday night, Champlain College professor and poet Brian Murphy took to the stage of
ArtsRiot
to address about 15 attendees. The Pine Street venue is known for packing the house for touring musical performances, but the smaller turnout for Murphy suggests fewer people appreciate the club's other cultural offerings. They should.
Murphy was the first speaker in the fall season of the
Vermont Humanities Council
's Ideas on Tap series, which started in spring 2015. VHC collaborates with the Humanities Center at the University of Vermont to produce the events. The aim is to deepen conversations about the environment, society or history, pairing a scholarly lens with good food and beer. Not to mention, it's free.
ArtsRiot's bar and kitchen are open during each Ideas on Tap event. Every table comes equipped with a bucket of menu cards, which attendees can quietly fill out and clip to a plastic wand attached to the edge of their table, signaling that they're ready to order. Thus, food quietly appears as they soak up new information.
For the opening of the series, Murphy gave a dynamic presentation on the concept of "the cloud," that seemingly amorphous digital entity that stores the data of our virtual lives. The professor was there to dispel that notion. "The big myth about digital," he said, "is that it's immaterial."
If approaching the topic of our digital footprint sounds daunting, not to fear: The whole point of Ideas on Tap is to stimulate conversation, not to limit it to just a few brilliant minds. Murphy's presentation was engaging. He used quizzes (the fun kind) and visual examples; and he gave the audience an overview of how digital systems overlay analog ones. For example, internet cables often run on top of old telegraph cables, and mines and fallout shelters often serve as data storage facilities.
Like any good professor, Murphy offered some reading suggestions.
A Prehistory of the Cloud
by Tung-Hui Hu will broaden your understanding of data storage "if you want to get really nerdy about it," he said. For something a little less nerdy, he offered
Tubes: A Journey to the Center of the Internet
by Andrew Blum.
Ideas on Tap
has two more opportunities to expand your mind this fall. Next up is "Exploring Graphic Novels," on November 29, with UVM professor Dan Fogel and lecturer Isaac Cates. They aim to "deepen appreciation of such powerful graphic novels as Art Spiegelman's
Maus
, Alison Bechdel's
Fun Home: A Family Tragicomic
, James Sturm's
Market Day
, and Jason Lutes'
Berlin: City of Stones
," according to the VHC website.
Last, on December 13, is UVM associate professor Sarah Nilsen's talk "Growing Up Disney: A History of Childhood in the Twentieth Century." Nilsen is also the program director of the film and television studies department. Maybe her talk will offer some insight into why a dream house is a tiny shack in the woods with seven best friends to help with the chores. Regardless, it's sure to be interesting.