Generator
A floor plan for the new incarnation of Generator
Inside 40 Sears Lane, a new maker facility is gradually taking shape. The massive warehouse owned by Champlain College will be the new home of
Burlington's Generator
. The member-based makerspace, which provides community, resources and room for creatives to grow, is losing its quarters in Memorial Auditorium due to structural issues in the building.
The new location is expected to open on January 2. But, as a tour today revealed, it's got a long way to go to be ready.
Seven Days
walked through the warehouse with Generator director Lars Hasselblad Torres to get a sneak peek of what will be different for the maker hub. He estimated that Generator's overall space will expand by 30 percent. The nonprofit is adding four more studios, bringing the available rentals up to 19.
Generator recently elicited $300,000 in a fundraising drive for the transition and buildout; Champlain College is matching that.
One of the biggest additions that Torres anticipates is a dedicated "learning lab." "Biggest," that is, not in terms of physical size but the programming he has planned for it. Torres mentioned, for example, the possibility of out-of-the-classroom learning opportunities for local students.
Other, more tangible changes include a massive new ventilation hood in the welding room that can accommodate much larger projects, and a new ventilation system in the jewelry lab. The one currently in use at Memorial is outdated. In addition, Torres noted 4000K lights, which provide illumination closer to the color and quality of outdoor light and are thus better for workspace.
Sadie Williams
A new ventilation hood in the welding room at 40 Sears Lane
But those are down the road. At this point, the warehouse doesn't have sinks or all of its internal walls. The building smells of epoxy and vinyl, due to the newly floored bathrooms and wall base. On weekends, some 15 Generator members have been pitching in to help paint the walls that
are
up.
Generator communications coordinator Annika Rundberg is focused on raising awareness in Burlington about the impending move. She's organized a "Makémon" game that takes players around the city to different creative enterprises. The first clues will be released on Thursday, November 17, in Generator's newsletter. As an incentive to play, the first five to complete the game will get a free membership to the maker space. Not a bad deal, considering a basic membership runs $75 per month.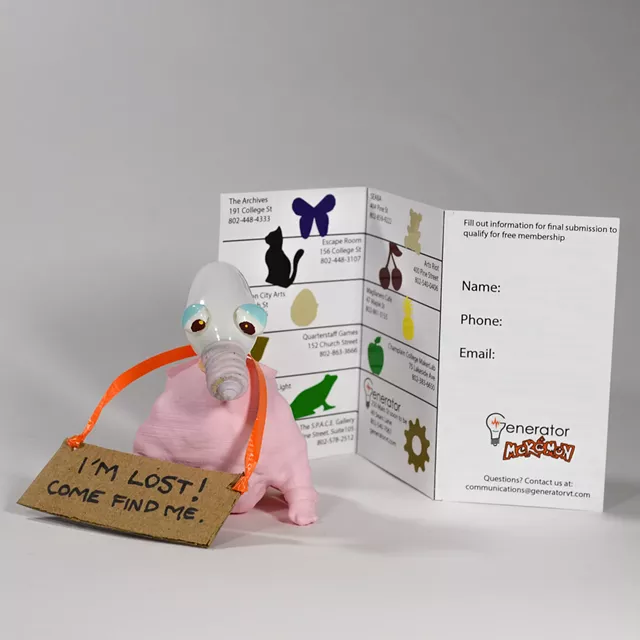 Generator
"Makémon" game