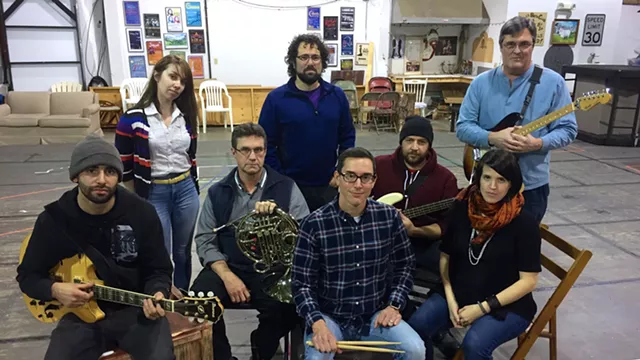 Jordan Adams
The band, L-R: Max Bronstein-Paritz, Andriana Chobot, Tom Whitney, Nate Venet, Matt Guzowski, Rob O'Dea, Marie Claire Johnson, Tom Walters
Burlington's
Lyric Theatre
is getting ready to throw the biggest rock show it has ever thrown. Actually, it's probably the
only
rock show the local theater company has put on in its 43 year of operation:
The Who's Tommy
, based on the iconic rock album of the same name. While Lyric has dabbled with rock operas and rock and roll musicals in the past, such as
Bye Bye Birdie
,
Rent
,
Grease
and
Jesus Christ Superstar
,
Tommy
will be the first attempt at creating a bona fide concert experience.
"We really want it to feel like a rock show," explains music director Nate Venet. "I've sort of given the band leeway [to deviate from the score]. I told them, 'Go listen to the original album, listen to them play these songs live at Leeds.' As long as we hit our marks, that's what matters."
Venet hand-picked musicians from all over the local scene to fill out his band, many of whom have played in local rock bands as well as other pit orchestras. The band features Rob O'Dea (Josh Panda & the Hot Damned, Heloise & the Savoir Faire) on bass, Marie Claire Johnson (Honky Tonk Tuesday, Me & You) on keys, Max Bronstein-Paritz (Grippo Funk Band, Kat Wright and the Indomitable Soul Band) on guitar, Matt Guzowski (King Me) on drums, as well as Andriana Chobot on keys and Tom Walters on guitar. Tom Whitney plays French horn, the one "non-rock" instrument in the band. Venet notes that, even though French horn isn't "rock," it's hugely important to the score as well as the original album.
One thing Venet and director George Walker have devised to give the show a concert vibe is setting the band directly onstage — though they won't always be visible. They'll be behind large LED panels, which will rise up to reveal them during key moments of the show. Because of this unique configuration, the band will be fitted with inner ear monitors, which is never the case with Lyric pit orchestras, who use conventional monitors in the relative reclusion of the actual pit.
Another element that will make this show feel more like a rock show is the lighting. Lighting director David Schraffenberger, who long served as the Flynn Theater's technical director, decided to keep the lighting concept simple, yet also complicated.
"I kind of looked at it as more of a period piece," says Schraffenberger. "They didn't have intelligent lighting fixtures back then, so if they wanted [a light] to move, you had to put a person next to it."
The show will feature the largest number of follow-spots Lyrics has ever used, a whopping 11. Each spotlight comes with its own operator. Schraffenberger explains that the follow-spots, combined with the use of a haze generator to create large shafts of light, will create a greater sense of motion, adding to the frenetic rock energy created by the band.
Schraffenberger adds, "This is a kick-ass band."
The Who originally released the album
Tommy
in 1969, later brought to life onscreen in Ken Russel's 1975 film adaptation. It wasn't until the early '90s that Pete Townshend collaborated with stage director Des McAnuff to bring
Tommy
to Broadway, after a successful run at the La Jolla Playhouse.
The Who's Tommy
opens on Thursday, November 10, at the Flynn MainStage in Burlington. Check out the cast and crew
here
.