It's Monday, which means it's time for your weekly dose of locavore levity: the Joke of the Week! This week's joke comes from Burlington's Tim Bridge. Take it away, Tim …
I was dumped recently. And it sucks being broken up with. It does. It only sucks more when you're sitting on a couch, being broken up with, and multiple times in the conversation you have the thought,
That's a good point
.
No one wants to be broken up with. I feel like the best case scenario is being able to say, "Screw it, man, that girl was crazy." Or, "Who cares, girl. That guy was an asshole."
No one wants to be like, "Nah, this makes sense for you."
About that joke
Says Bridge: Writing jokes about how sad you feel is a pretty great way to get over how sad you feel.
I was broken up with. It made a comical amount of sense when it was explained why I was being broken up with. So I made it into a joke in order to convince myself that everything was going to be okay, which it totally, definitely, 100%, completely is.
I'm fine.
Meet the Comedian, Tim Bridge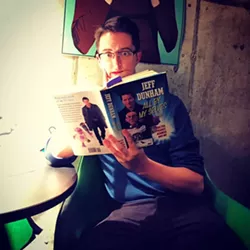 Courtesy of Tim Bridge
Tim Bridge
Tim Bridge is a stand up comedian, improvisor, and writer from Vermont. He is a member of the Vermont Comedy Club house long-form improv team, the Unmentionables, and has been a Top 5 Finalist in the Vermont's Funniest Comedian Contest for the last two years. He hosts and books a monthly showcase at the Light Club Lamp Shop called "Pullin' Yo Chain" and is also a writer and performer for the Burlington sketch comedy troupe, Feed the Meter.

See Him Live
Bridge performs as part of the the Daily Grind improv show featuring the Unmentionables everyThursday at the Vermont Comedy Club in Burlington. The "Pullin' Yo Chain" standup comedy showcase happens every third Tuesday of the month at the Light Club Lamp Shop in Burlington.
Think you can do better?
We're always looking for jokes from local comedians. We publish one joke each week, and you can read through previous ones
here
.