Rachel Jones
Panty Pulpers poster
Artist Drew Matott is now based in Hamburg, Germany, but he and the arts-activism initiative he cofounded, the
Peace Paper Project
, have roots in Burlington. Beginning in 2002, the South End Arts District — specifically the Green Door Studio — witnessed the transformation of Matott's personal paper-making practice into the
Combat Paper Project
with Drew Cameron. It has since grown into a robust network of international workshops and studios dedicated to paper making as a "vehicle for personal expression and cultural change."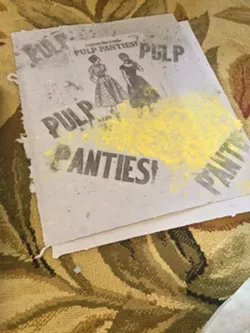 Rachel Jones
Panty Pulpers poster
This past week, Matott returned to his old stomping grounds with fellow Hamburg-based artist
Jana Schumacher
to help students at Saint Michael's and Champlain colleges make paper — from their underwear.
The Panty Pulping workshops, which Matott referred to as "interventions," are designed to engage community members in raising awareness about sexual violence, both on personal and public levels. Before getting their hands dirty, participants are asked to sign a pledge of nonviolence, which declares:
"By participating in this process, I am making a vow to myself and my community to use my power to promote peace — and to prevent violence — in thought, speech and action."
"The pledge of nonviolence is really important, particularly on college campuses," Matott told
Seven Days
. "It directs the activity."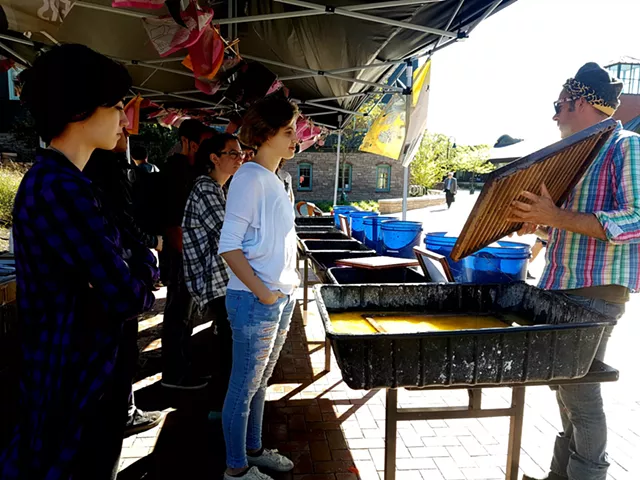 Jana Schumacher
Drew Matott demonstrates paper making
After participants sign the pledge, Matott guides them through making their own paper from start to finish. The goal, though, is not just to make paper but to facilitate every participant in creating their own unique work. For Panty Pulping, a variety of screened graphics were on hand for customizing: scissors, boxers and briefs, female figures, a world map, a wolf and others. Preprinted phrases were available, too, such as "Respect," and "Equality is the only option."
Champlain College juniors and roommates Samantha Segalas-Shaw and Lily Mason enthusiastically joined in the paper-making process, readily making connections between PPP's consciousness-raising efforts and their own. Both women volunteer with the
Vermont Ibutwa Initiative
, an organization dedicated to helping women affected by gendered violence in the Democratic Republic of the Congo. Segalas-Shaw noted that both VIBI and Panty Pulping are tools for "breaking the silence about sexual violence."
"It's so therapeutic," she said of the paper-making process. While some students were shy about pulping their underwear, she grabbed two pairs for the cause. Her final pieces were pink-purple with blue strands. Segalas-Shaw said she intends to use the paper to make a book about VIBI.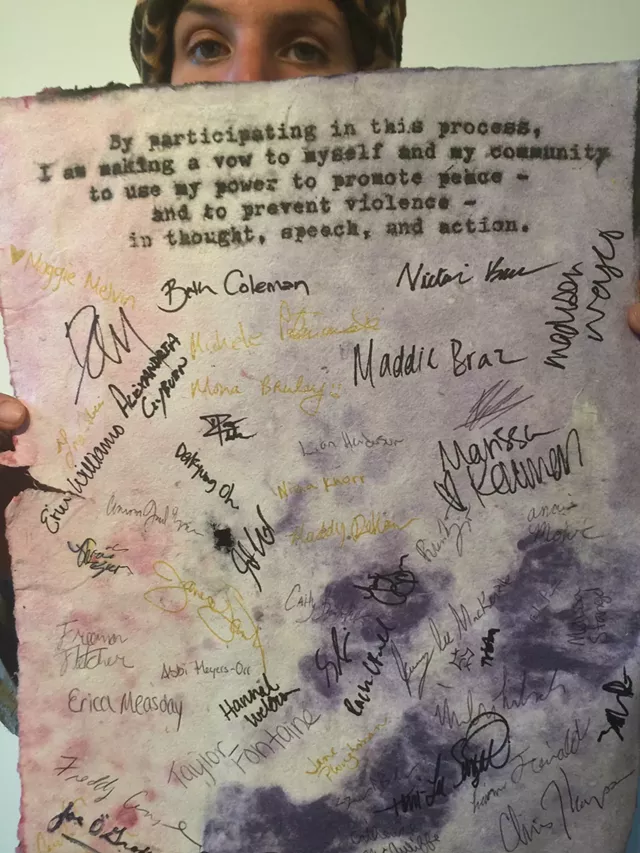 Rachel Jones
Jana Schumacher with a pledge of nonviolence
On Thursday evening, a pop-up exhibition was hosted in the
Champlain College Art Gallery
to display the completed works. This showcase was organized by Champlain curator-in-residence
Chris Thompson
, who also arranged for Matott and Shumacher's residence in "the cottage." Thompson's informal campus residency program gives visiting artists a place to stay and work, free of charge. When
Seven Days
visited, drying paper on makeshift clotheslines crisscrossed the modest house's living room.
While "activist paper making" may sound dubious to some, it is in many ways an ingenious form of social-practice art that merges art therapy with physical and symbolic acts of transformation.
Matott founded PPP with Cleveland-based art therapist
Gretchen Miller
and Vermont artist and St. Mike's alum Margaret Mahan. Miller teaches the class "Papermaking as Trauma Intervention" to fellow art therapists.
During his Vermont visit, Matott offered the talk "Breaking the Deckle: Papermaking as Social Justice" at the University of Vermont.
Matott's own path to paper-making-as-healing stemmed from his father's death when Matott was 5. He explained that, growing up, the way to "commune with Dad" was to look through a box of poems, letters, photos and clothing. As an undergraduate art student at Buffalo State College, Matott transformed some of his father's remaining clothing into paper to make 13 books.
The finished volumes included scanned and printed materials from the box. Through the process of making the books and distributing them to family members, Matott said he realized that "paper was something more than a surface to be printed on and put up in a gallery."
As PPP grew, Matott said, therapists from all over the world began to ask the group to design workshops for specific populations: refugees, incarcerated youth, breast cancer survivors and more. Most recently, Matott worked to establish a long-term paper-making program at the Ukraine's Radomysl Castle. This studio will provide workshops for Ukrainian war veterans and for survivors of sexual violence — an epidemic exacerbated by the region's sex-trafficking industry.
Steve Mease
Peace Paper Project exhibition
Matott and Schumacher's next endeavor is training German and Syrian artists to work with refugees relocated to Germany. Matott explained that the program will lead participants through "commemorating the past as they move forward." Participants will transform the clothing they wore during their flight into books, with photos printed from their cellphones.