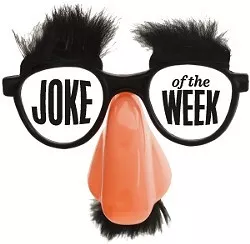 It's Monday, which means it's time for your weekly dose of locavore levity: the Joke of the Week! This week's joke comes from Burlington's Alex Bonson. Take it away, Alex…
Heroin is a big problem in Vermont, no doubt about it. I was at Shelburne Farms recently and what did I find? A needle in the haystack.

About that joke
Says Bonson: "I wrote this joke to supplement a previous one I wrote about how I don't do the typical things Vermonters do, such as skiing and heroin. Having lived in the green mountain state all my life, I enjoy writing bits about local topics/concerns, especially those that have a bit of an edge to it. If I can take something unsettling and turn it into laughter, I feel like I've done my job as a comic."
Meet the Comedian, Alex Bonson
Courtesy of Alex Bonson
Alex Bonson
Alex Bonson is a Burlington native and graduate of the University of Vermont. A lifelong consumer of comedy, Alex is a regular at Burlington open mics and was recently featured in Vermont Comedy Club's Next Gen Showcase. He finds inspiration from such notable comics as George Carlin, Anthony Jeselnik, Jimmy Carr, and Bo Burnham. Alex puts lemons in a glass jar on his kitchen table to convince people that he has his life together. For more, check out his
YouTube channel
.

See Him Live
Bonson hosts an audience-participation game event called Quiplash Live at the Vermont Comedy Club in Burlington. Check out
vermontcomedyclub.com
for future dates. He also co-runs a game night at the Mad River Distillers Tasting Room in Burlington featuring laugh-inducing party games and virtual reality every Thursday at 5 p.m.
Think you can do better?
We're always looking for jokes from local comedians. We publish one joke each week, and you can read through previous ones
here
.