Welcome to the debut installment of the
Seven Days
Joke of the Week! Every Monday, this space will feature a joke submitted by a Vermont comedian. This week's joke comes from New Haven's Katie Gillespie. Take it away, Katie …
I'm not from Vermont so it took me a long time to learn that a creemee is not a sex act. But I do think that eating one in front of old dudes at the farmers market is the Vermont equivalent of doing porn. And I'm in the industry now.

About that joke
Says Gillespie: "I moved here from Chicago last summer, so I spend a lot of time thinking about the differences between big-city and small-town life!"
Meet the Comedian, Katie Gillespie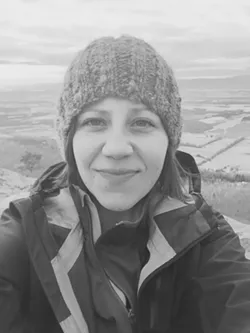 Courtesy of Katie Gillespie
Katie Gillespie
Katie Gillespie started doing standup in Chicago and moved from the city of 2.5 million people to a town of 1,500 in Vermont. She enjoys hiking, beer, volunteering with old people and hanging out with her dog. She tries to find humor in everything, but especially the hard stuff like death. So, very light and breezy.

See Her Live
Thursday, October 13, 7 p.m., at the Half & Half comedy showcase at Halflounge Speakeasy in Burlington. Free.
Think you can do better?
We're always looking for jokes from local comedians. We publish one joke each week, and you can read through previous ones
here
.