Courtesy of Frog Hollow Vermont Craft Gallery
"Ancient Wind," 1990, by David Bumbeck
Earlier this month,
Frog Hollow Vermont Craft Gallery
cleared out the back section of its Church Street quarters to make way for a special exhibition. "New Registrations," co-curated by Barre collector Mark Waskow and Frog Hollow executive director Rob Hunter, showcases prints that were created using nontraditional methods, materials and combinations of processes.
Walk past the displays of ceramic bowls, serene cow prints, stained glass and lake-stone jewelry to find, for example, gunpowder in a piece by Bill Davison aptly titled "Bullet"; a screen-print made with holy water on a massive sponge called "Madonna and Child (after Crivelli)" by
Jeff Feld
; a monoprint incorporating organic plant matter, "Double Reach," by
Leslie Fry
, and many more. Fourteen artists are included in total.
Courtesy of Frog Hollow Vermont Craft Gallery
"Madonna and Child (after Crivelli)," 2003, by Jeff Feld
Hunter says this show is particularly exciting to him because it showcases artists with whom the gallery doesn't normally work. The craft organization currently represents only two of the printmakers in this show. The newcomers to Frog Hollow were selected by Waskow.
One of those is Feld, a former Vermonter now living in New York City. For his Madonna-and-Child image — part of a series modeled after famous depictions of the Christian icons — he used holy water from Our Lady of Pompeii Church in the West Village.
"I would go in with a gallon jug, and they had a large cistern I could take from," said Feld via email. Explaining the reasoning behind his process, he continued, "I was interested in creating miracles, putting action to beliefs: The Madonna and Child appears, then the substance that created the image disappears."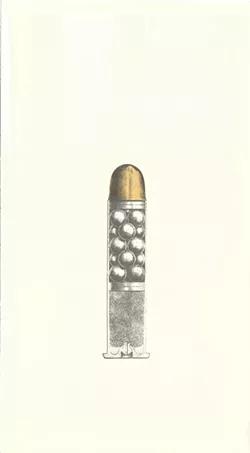 Courtesy of Frog Hollow Vermont Craft Gallery
"Bullet," 1976, by Bill Davison
On a tour of the show, Hunter pondered the myriad approaches taken by the artists. (For those less acquainted with printing terminology, he has included a handy glossary with the exhibit.) "There are so many different techniques here," he said. "It's about challenging people to think about printmaking [as] something different than a block that's been inked and smushed onto paper. I can't thank Mark enough for being the catalyst."
For his part, though, Waskow dispelled the notion that this exhibit differs drastically from crafts that Frog Hollow represents.
"I don't agree with that stereotype," he said. "Frog Hollow represents crafts and [fine] art, as well … It's simply a meeting place of artwork, ceramic [and other works] that all have one thing in common: They're made by Vermont artists."
Viewers can see for themselves the rest of this week. "New Registrations" is on view through September 30.